Looking for Scribe(ScribeHow) alternatives? You are at the right place.
Within this blog, you'll discover a curated selection of 10 Scribe alternatives that are highly regarded as user-friendly, cost-effective, and laser-focused on fulfilling your needs.
Our research extends beyond just the websites; we've delved into G2 and Capterra reviews, developer forums, and Reddit discussions(so you don't have to). Coupled with our technical expertise, we've thoroughly examined these tools to empower you with the best choices.
But before we dive in, let's know a bit about Scribe.
What is Scribe – Pros and Cons
ScribeHow is an in-browser tool that simplifies creating step-by-step guides. All you have to do is perform the specific task or process you want to document. Scribehow will automatically capture your screen clicks and keystrokes, transforming them into comprehensive screenshot guides.
Pros of Scribe
ScribeHow has a simple and intuitive interface, making it easy to create step-by-step guides, even for users with no prior experience.
It can save you a lot of time by automatically generating guides.
ScribeHow guides can be shared via a link or embedded in any other site or platform.
Cons of Scribe
One disadvantage among the others is customizability limitations. Scribe's free version is basic and doesn't allow many personalizations. For that, you'll need the paid version offering capabilities like longer guides, custom branding, and diverse guide export formats, vital for a refined instructional experience.

The team plan for Scribe is priced at $12 per seat per month, amounting to $60 per month for a team of five members. While this may not initially seem like a substantial expense, it's worth questioning the value when it's primarily focused on the singular functionality of creating screenshot guides. Therefore, some may consider it pricey for what it offers.

One notable drawback of ScribeHow is the challenge of editing photo or screenshot slides, and they can frequently become too small for comfortable viewing. This limitation represents a significant con that motivates users to seek alternative solutions.

Some users have reported that ScribeHow can be buggy, especially when recording complex processes. A customer on the software listing site said this about Scribe, and we quote:
"The captured information often includes extra clicks, it's nearly impossible to consistently customize the look of any markups, it's clunky to zoom, and it routinely gets the text of buttons and menus wrong."
ScribeHow may not be suitable for all tasks. Though it can create simple guides, the real issue is using them to create more complex guides, such as those that require users to make decisions or troubleshoot problems.
After evaluating the strengths and weaknesses of Scribe, it's clear that the extension needs bug resolving and updates according to user feedback. While awaiting those improvements, let's explore a promising (and probably the best) Scribe alternative: Gyde.
Gyde
Gyde vs. Scribe
Gyde's web extension delivers more than you can imagine.
Gyde seamlessly integrates with your browser and shadows your cursor, effortlessly pinpointing each element on your screen as you navigate any software application. It's as simple as clicking your way through the process, and Gyde captures it automatically and generates a shareable link.
Now, you might think that Scribe offers similar features, but what makes Gyde stand out is its impressive additional features, including sensitive information masking and collection links, all available in the free version. This means you can experience these fantastic features at no cost and make the most of the extension, whereas Scribe has limitations in its free version.
When it comes to pricing, Gyde takes the lead with its feature-packed plan starting at just $9 per month, in stark contrast to Scribe's $23 per month. It's a win-win for users looking for value and functionality.
Important to Note - Gyde also serves as a knowledge base platform.
Within your application, you will have a Gyde's widget(knowledge base), where all your created step-by-step guides will be available for users to help them walk through the process. Also, you will have contextual help articles feature that can act as FAQs about your app.
This means all the help you create will be in one place and proactively used to assist users in learning application processes better. The pricing tiers are well-planned and can suit a versatile user base.
Gyde's Key Benefits
No Separate Highlights - Are there times when you need to write or point on screenshots? Not anymore. Gyde annotates each screen element in real-time as you navigate the process, creating a sleek and ready-to-use guide.

Smart Editing: You can use a side panel editor to edit steps quickly. With the detailed view, you can use an AI text enhancer powered by ChatGPT that suggests titles. Plus, add, delete, or modify the steps as you like.

Blur Sensitive Information: Effortlessly mask sensitive information within screenshots you'd rather not share with the public. This feature is available for free, unlike other alternatives that offer it only in their paid versions.

Knowledge Sharing Simplified: As you create these guides, you will instantly get shareable links. Also, you could use a 'collection link' to combine several guides for complex processes and create a single link that takes your users to all those guides in one convenient place (a feature Scribe does not have).

Public Library of Guides: Upon creating your Gyde account, access and contribute to a repository of process guides that address common queries. Become the go-to source everyone relies on in the public library section.
Gyde Pricing Plan
Gyde's pricing is designed to be flexible for various user needs:
Free Plan: Begin your journey with Gyde for free, perfect for individuals and decision-makers to understand the platform's utility.
$9/month: Transition from the free plan to access 500 how-to guides. An affordable option for individual users.
$25/month: Small teams can collaborate effectively with this plan, ensuring smooth coordination.
Gyde User Impressions
Here is a review we found from a GTM marketer on the site:
"I have tried various tools similar to this one, but the features of this particular tool are exceptional. The content rephrasing feature saved me a lot of time. Don't have to juggle between ChatGPT now."
(Just in case you missed the awesomeness), here's another one by a SaaS company head:
"It took only a few hours to create how-to-use guides for my new SaaS product. It's a time saver…. also I can embed those guides in my application as a knowledge base. Best & cost effective for product owners like me."
How to Get Started Using Gyde?
To start, you can simply click here to install Gyde.
After installation, open the Gyde extension from your list. A side panel will appear, and you'll need to log in just once, which creates your Gyde account.
As you move your cursor, Gyde will automatically highlight steps and capture screenshots.
Before taking screenshots, if you need to hide sensitive information, you can do so using the blurr icon in the left corner of the side panel.
When you're done with the process, hit 'save' to save your guide.
You can customize your guide by making adjustments, deleting steps, or adding new ones as needed.
Share your guide instantly using the provided link.
In just a matter of seconds, you've created a step-by-step guide.
It's that quick and easy!
Iorad
Iorad Vs. Scribe
Iorad is a browser extension tool that watches where your mouse goes and records all your clicks. It then turns this into a step-by-step guide. It suggests you close extra browser tabs and move your mouse slowly to get the best results. You can even add audio and voice instructions for interactive learning.
Teachers can use these guides to show students how to do things in applications. Iorad is quite affordable for educators, so if you're a teacher, it might be a better choice than Scribe.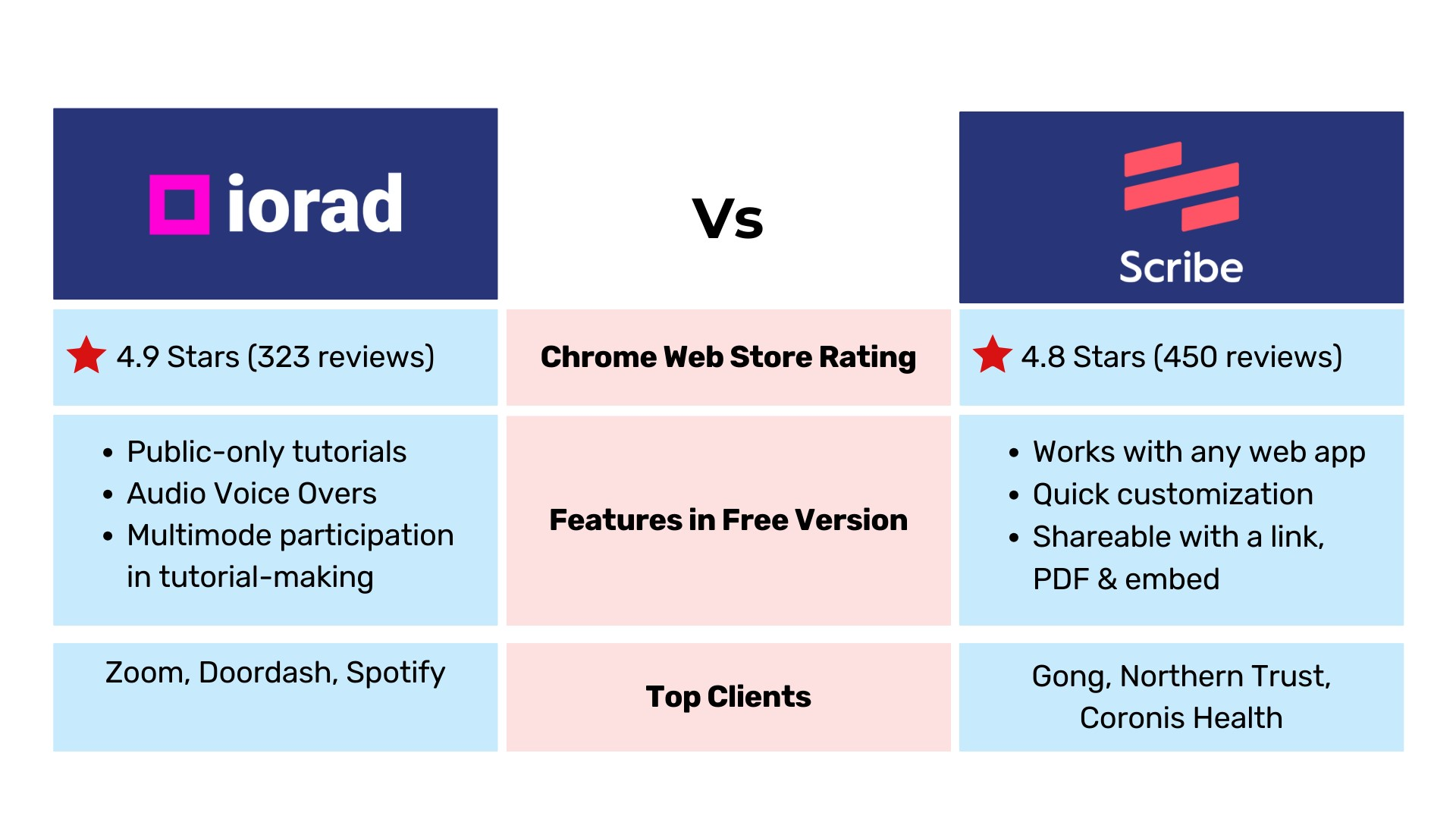 Iorad Pricing
You can use Iorad's tutorial builder at no cost, but all tutorials you make will be accessible to the public. If you want to maintain the privacy of your tutorials, you will need to explore their paid subscription options.
Iorad offers four separate subscription plans tailored to different needs:
Personal (Free, but tutorials will be public)
Business (Starter: $200/month, Pro: $500/month, Enterprise: Custom pricing)
Education (Exclusive for K12 teachers & professors: $10/month)
Non-profit (50% discount)
Iorad Customer Impressions
Users have highlighted iorad's user-friendly interface and powerful tutorial creation capabilities as follows:
"IORAD has been a great benefit when building websites for nonprofit organizations. Using IORAD, we have been able to create specific step-by-step videos on how to change/upgrade the different features on the website. Having these videos available for training new volunteers, the nonprofits can keep their website current."
However, some have encountered issues:
"I cannot get the Iorad to embed properly into my Rise360 course. It is potentially a great product, but I cannot reach out to anyone for help, and there is no quick way to seek out tech support."
Tango
Tango vs. Scribe
Tango matches Scribe in terms of basic features, but its real strength lies in its user-friendly and intuitive interface. You can effortlessly utilize it in a web browser or on a website without requiring any coding skills.
The personalized user dashboard is a standout feature, allowing you to deliver tailored assistance to the individuals who require it, a capability that Scribe lacks.
Tango also excels in collaboration as it seamlessly integrates with popular applications like Slack and Google Workspace, enhancing teamwork and communication.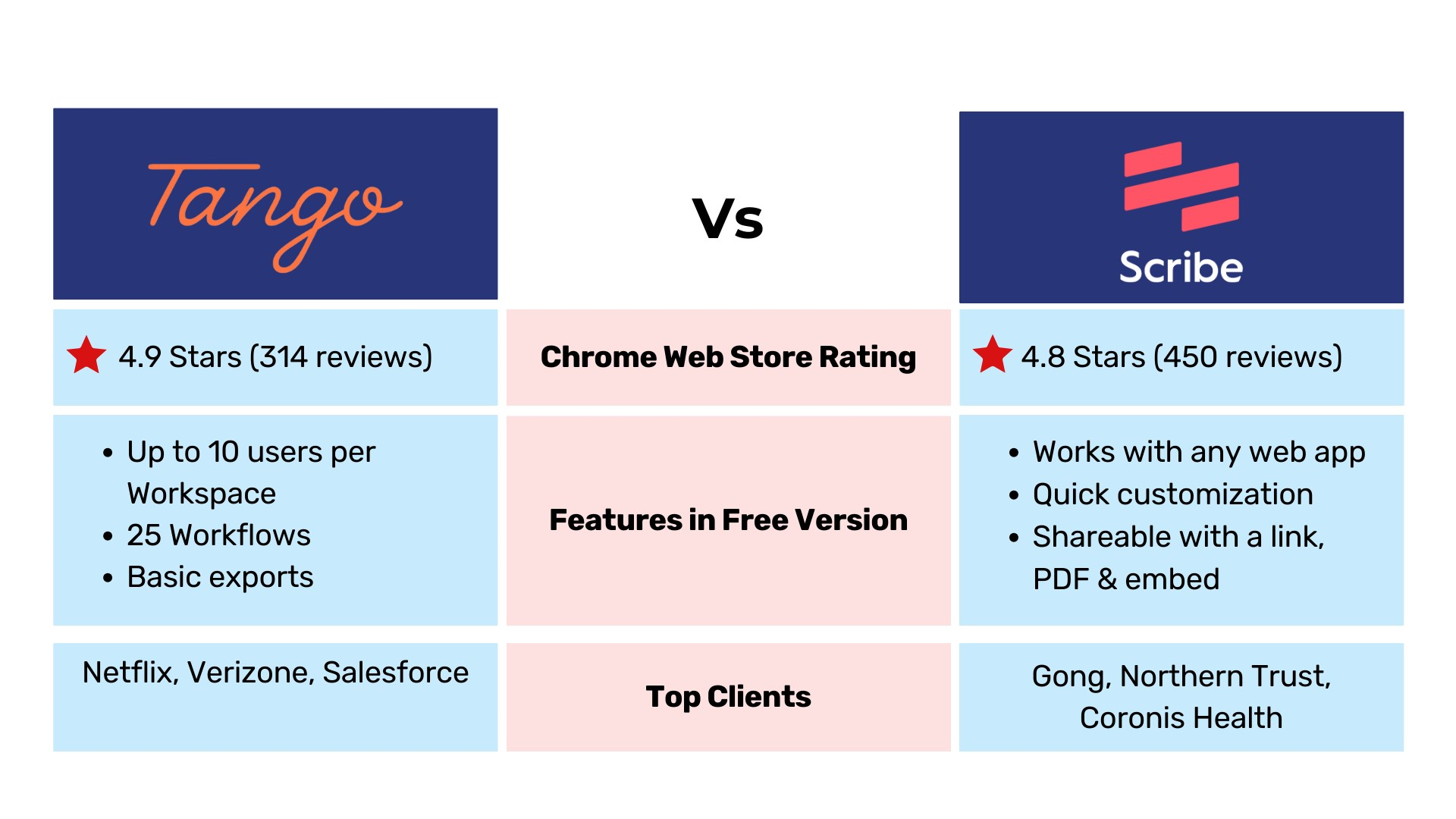 Tango Pricing
Tango's pricing options:
Free: Ideal for individuals and small teams, starting at $0.
Pro: For power users, priced at $20 per Pro user per month (billed monthly).
Enterprise: Custom pricing, perfect for larger teams needing enhanced security and control.
Tango Customer Impressions
Users have given Tango a positive review on the Chrome extension page:
"Tango has become part of my personal toolbox at work. As a Team Lead in the digital space, it is essential to be able to show others step by step and be able to replicate this. It is very helpful for onboarding internally and externally. I love how easy it is to use and to share."
While some also say:
"The only two things I wished it had are (a) VMWare/Hyper-V awareness (it doesn't have the ability to record things on the VM, which is potentially a technical impossibility) and (b) the ability to remove/move the orange circle in screenshots."
Trainual
Trainual Vs. Scribe
Trainual is a platform designed for employee training and managing knowledge, which is why we've included it as an alternative to Scribe. It stands out for its impressive features, particularly useful for organizations with a structured hierarchy and the need for user control in various roles.
Trainual captures processes with screenshots, but it's different from Scribe as it effectively distributes these processes among different user roles.
The Trainual application conveniently stores all these documented processes in one centralized location. While it may not have garnered many reviews on the Chrome Web Store, it boasts a solid 4.5-star rating based on feedback from 568 users on G2.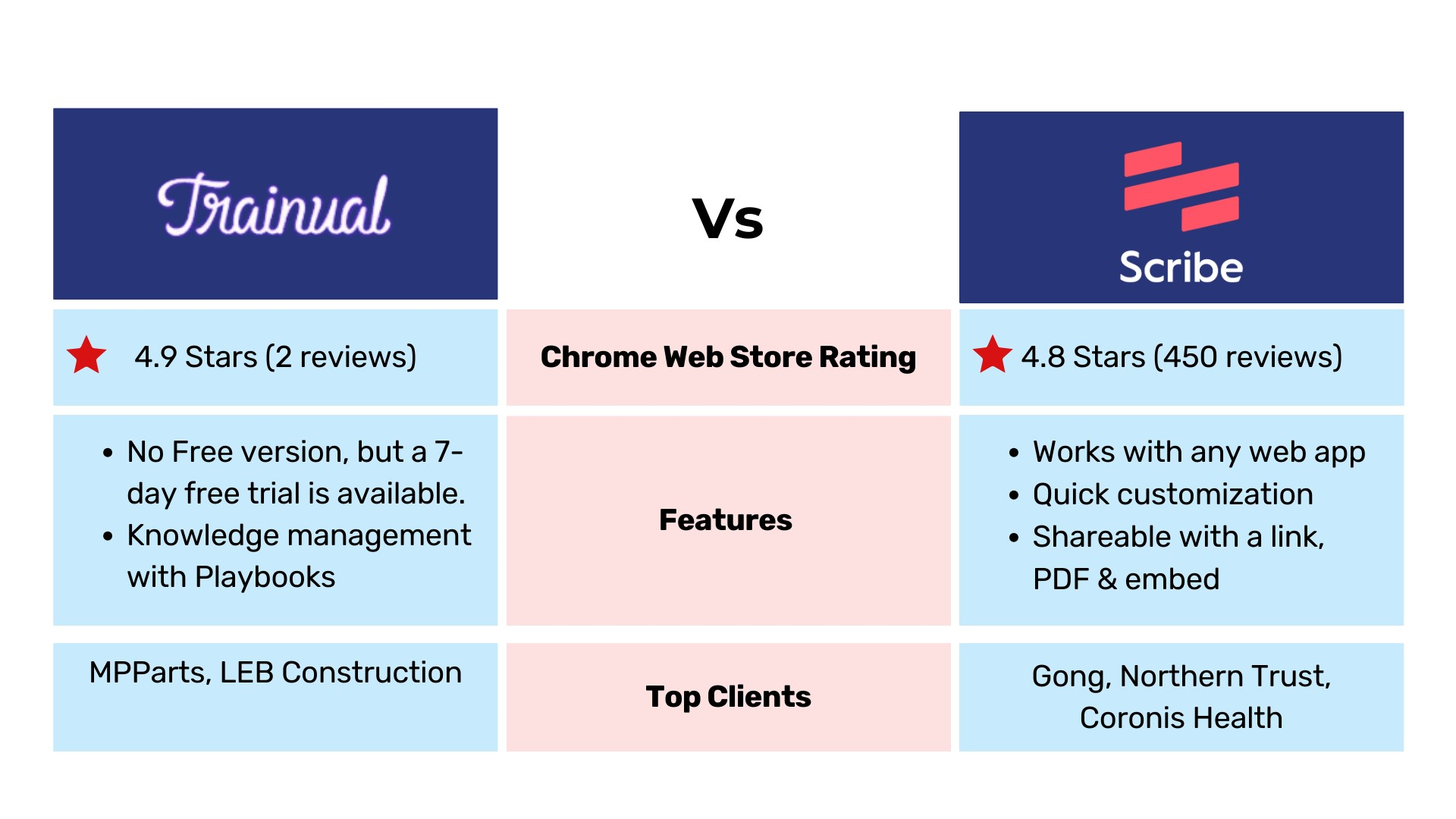 Trainual Pricing
Here's an overview of Trainual's pricing structure:
Small Business: Priced at $300 monthly, tailored for businesses with 1 to 50 employees.
Growth Business: Designed for companies with 51 to 250 employees, this plan costs $720 per month.
Unlimited: For businesses seeking all features with unlimited users, Trainual offers a custom plan.
Free Trial available for all plans for 7 days.
Trainual Customer Impressions
Trainual is rated 4.7 out of 5 on g2 and some reviewed it positively saying,
"The ability to assign policies and processes to a group of individuals or one specific individual is nice. Being able to look at completion logs is also very helpful"
Some not-so-good reviews we saw said:
"It is not very sharp; the app on my phone is very slow to recognize the search I am searching for, I need to get to my files fast when at a meeting, have to search a few times to get the search I am looking for. It's very inconvenient."
Process Street
Process Street Vs. Scribe
Process Street is an extensive process management software that goes well beyond what Scribe offers. It allows you to integrate images, videos, documents, and pre-written emails into checklists without the need for coding. These checklists are easy to create and edit with simple drag-and-drop functionality.
It's a paid tool, but it offers significantly more functionality compared to Scribe, especially if you require the creation of standard operating procedures (SOPs) and training manuals directly within the application and the ability to distribute them to various roles.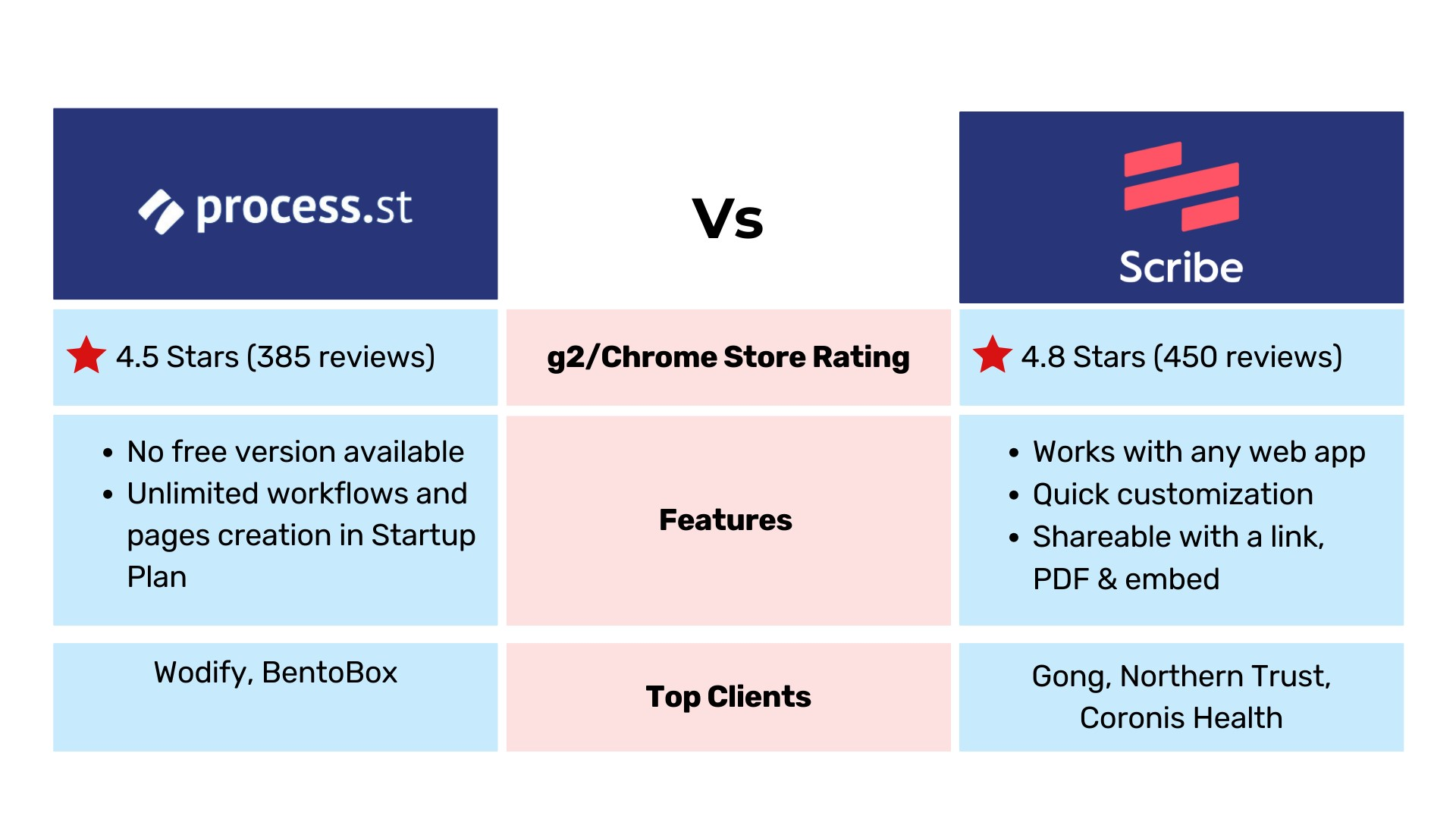 Process Street Pricing
Process Street offers a range of pricing plans to fit different business requirements:
Startup: Priced at $100 monthly, this plan provides a solid foundation for emerging businesses.
Pro: Starting at $415 monthly, the Pro plan offers more comprehensive features for growing companies.
Enterprise: Tailored for larger organizations, the Enterprise plan costs $1,660 per month, delivering advanced capabilities and scalability.
Process Street Customer Impressions
Rated at 4.6 stars out of 5, g2 has around 300+ reviews mentioned:
"We liked the concept of being able to create checklists and procedures for multi-member teams."
Some issues were also raised as they disliked:
"This is not super user-friendly...I felt like it was taking me ages to set up even the most basic checklists and how-to's for my team."
Uphint
Uphint Vs. Scribe
Uphint offers functionality similar to Scribe, with the added capability to translate all your screenshot guides into multiple languages. However, one downside is Uphint lacks a free version, unlike Scribe, which can make it a bit challenging for those interested in trying out Uphint's features during a trial period.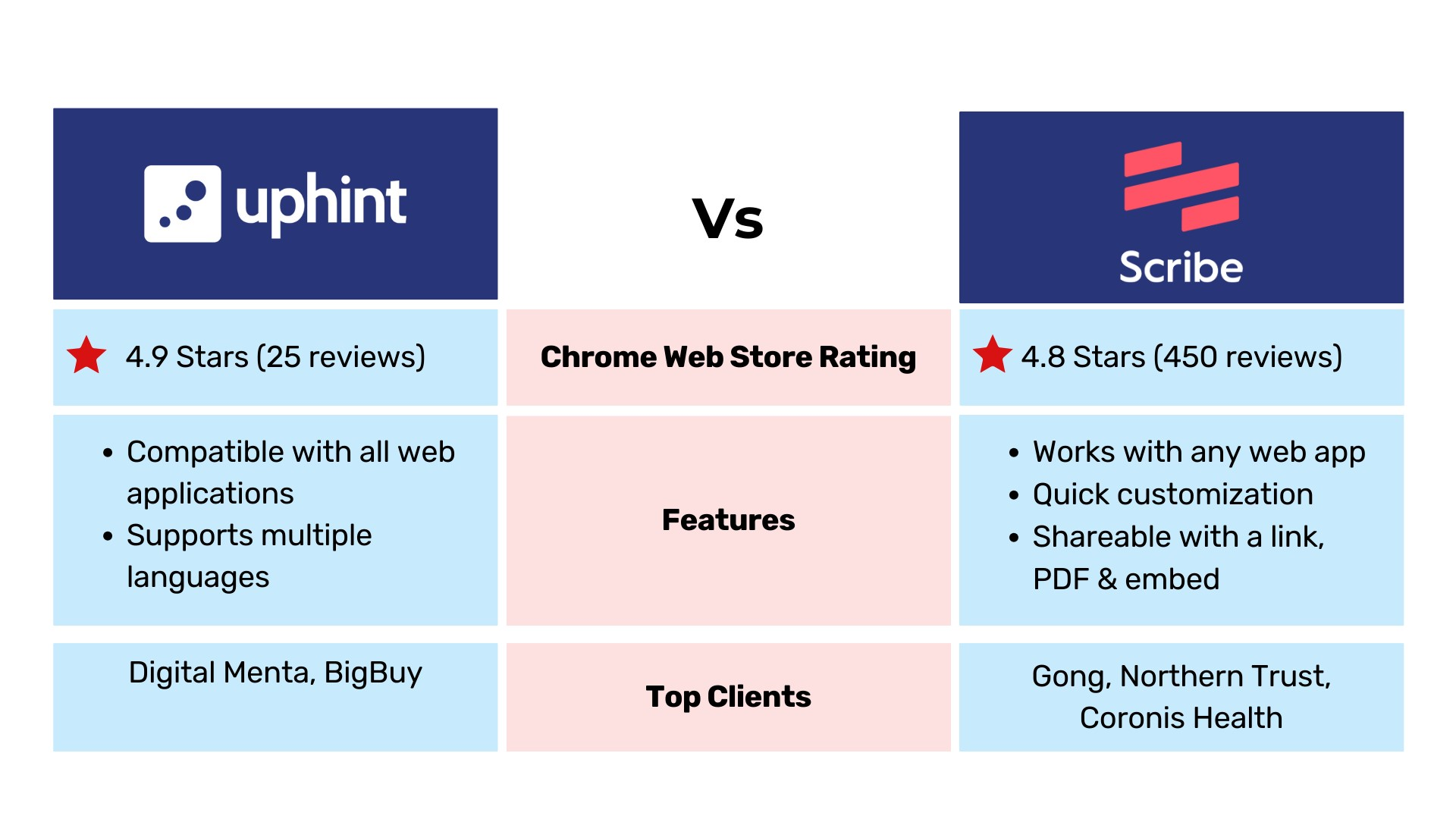 Uphint Pricing
Uphint offers a free trial, but their website does not mention the duration. Their pricing plans are divided into three tiers: Starter, Pro, and Enterprise.
Unlike most Scribe alternatives in this blog, Uphint doesn't display pricing on its website. We found a starting price of approximately $22/month on Capterra.
To get a detailed pricing plan that suits your needs, you'll need to book a call with Uphint.
Uphint Customer Impressions
According to these reviews, people seem to have had a good experience with Uphint.
"Awesome idea and easy! Help me to reduce training times and implementation within my business. I strongly believe is a perfect tool for any company size. Amazing help desk and customer service."
Snagit
Snagit Vs. Scribe
TechSmith's Snagit for Google Chrome is a no-cost application for capturing screens and making recordings, suitable for use on desktop applications or within any browser. It allows you to take screenshots, craft recordings, and generate gifs of your screen.  
Unlike Scribe, Snagit requires only a single payment for the license, as opposed to recurring monthly fees. Thus, Snagit offers a cost-effective advantage. However, Scribe excels in providing a more modern and interactive User Interface (UI) and User Experience (UX), making Snagit's interface appear somewhat outdated in comparison.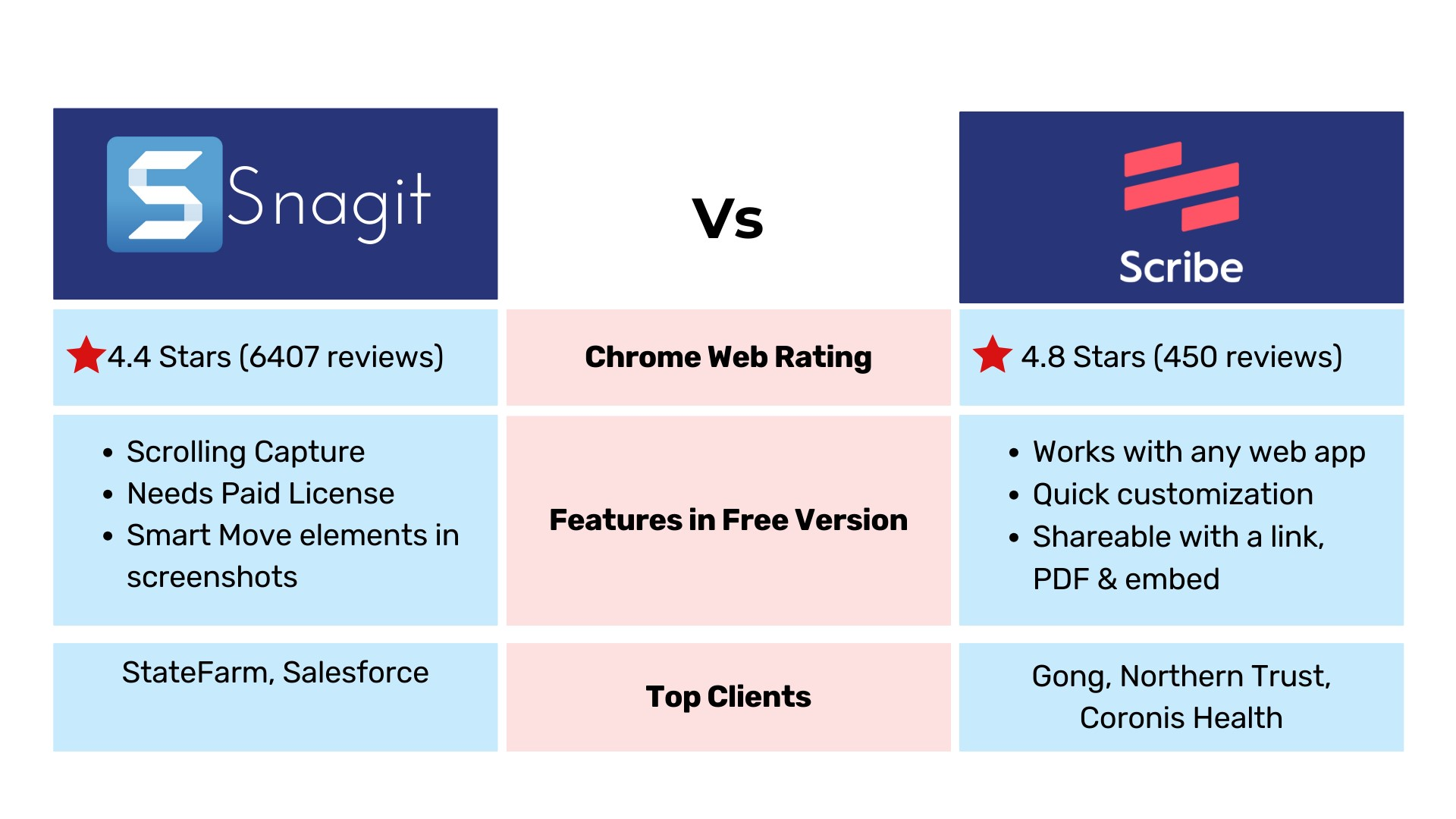 Snagit Pricing
Snagit offers a 15-day free trial. You can install it from the official website under the 'Free Download' option to try it. You will need to create a TechSmith Account after you download your trial.
Snagit is available for purchase as a one-time license. The price of a standard single license is $62.99 USD. This includes a full year of Maintenance, technical support, and access to the latest updates.

Snagit Customer Impressions
See why users have rated Snagit positively in these testimonials.
"I have to grab images and screenshots to include in communication all day long. Snagit makes this effortless. I can take one or more images, mark them up, and drop them in any application (often e-mail) and it's so easy that I don't have to even think about it."
Not all users have been satisfied with Snagit, as this less favorable reviews indicate:
"They do not sell subscription-based services; however, in my experience, they force you into new products annually. You will come to work any day, and the software will no longer work. In my experience, tech Support will tell you to purchase the new software."
Loom
Loom Vs. Scribe
The main contrast between Scribe and Loom lies in their core functions. Loom captures screen activity, creating a video that demonstrates a process, as opposed to Scribe's step-by-step guide documents. If your audience prefers video content, Loom may be a suitable choice.
Additionally, Loom's free version offers privacy controls, allowing you to monitor who views your videos. It enjoys a high rating and is more commonly used than Scribe.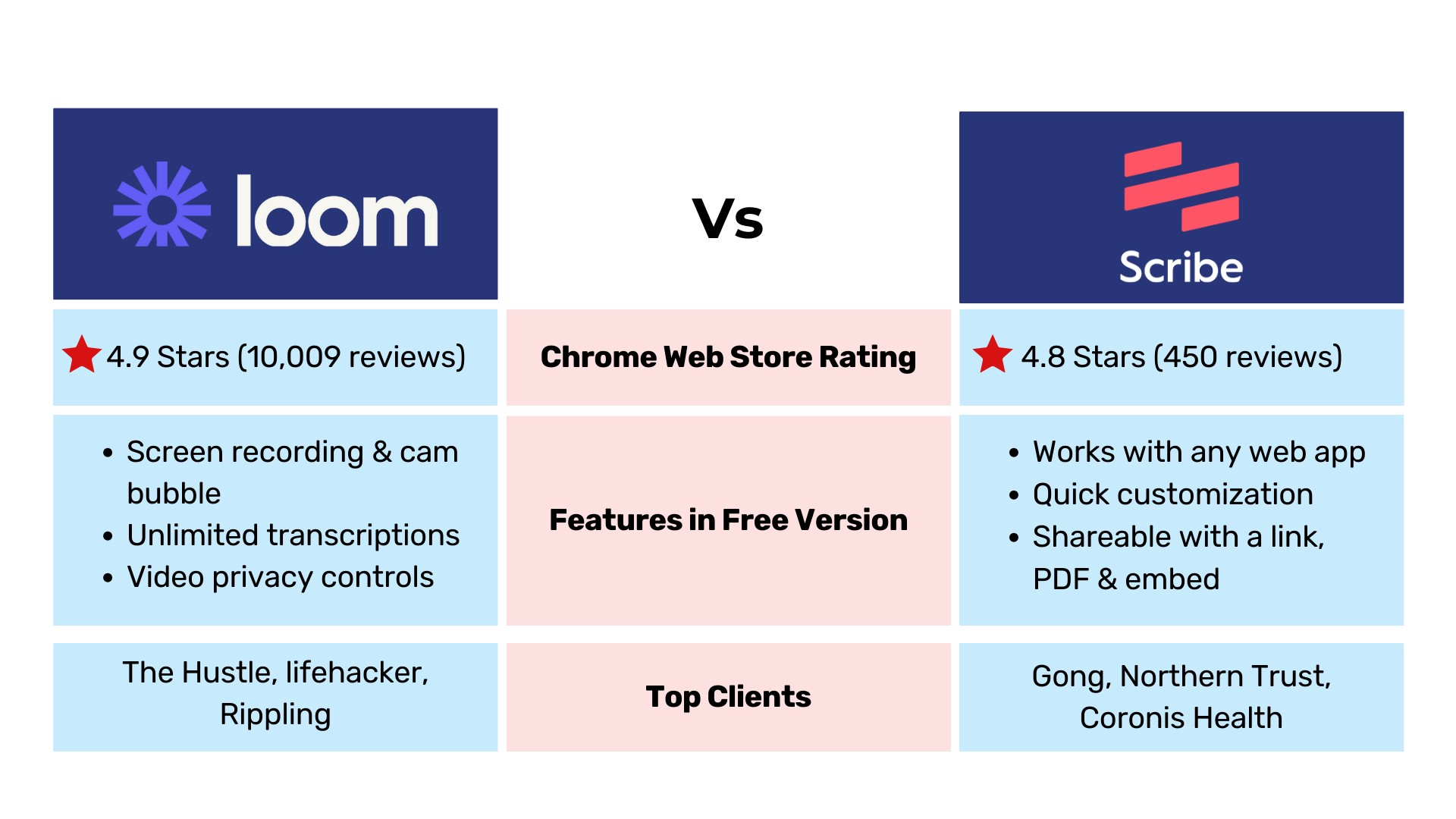 Loom Pricing
Loom offers a free version, allowing users to create up to 25 videos per person, each with a maximum duration of 5 minutes.
Their Business plan provides a 14-day free trial priced at $12.50 USD per creator per month when billed annually.
For those interested in the Enterprise plan, a 14-day trial is available upon request, with pricing determined individually.
Additionally, Admins on paid Business or Enterprise plans can include Loom AI in their subscription for either $4 per creator per month (billed annually) or $5 per creator per month (billed monthly).
Loom Customer Impressions
Check out this glowing review for Loom:
"I really appreciate how easy it is to record videos for my employees and clients in my tutoring business. The ability to trim and clip my video on the Loom platforms saves my business partner and me so much time."
But let's also consider the less favorable opinions users have shared:
"The Loom desktop app constantly crashes. This is a problem after multiple updates. The Loom Chrome extension only works in Chrome (so if you prefer Firefox, forget it). It is cumbersome once you need to do more than just a simple video, and for whatever reason, can not recognize my mic even though it works fine in other applications."
UserSnap
UserSnap Vs. Scribe
UserSnap is a helpful tool focusing on user feedback. It's like having a digital notepad that can capture what's happening on your screen. You can easily take screenshots and add notes to them right in your web browser. This makes it simple to point out issues or suggest changes to a website or app.
Comparing it to Scribe, which is more about creating step-by-step guides, UserSnap focuses on capturing what's on your screen and letting you give feedback. So, if you want to show someone what's going wrong on a website or in an app, UserSnap is a great choice.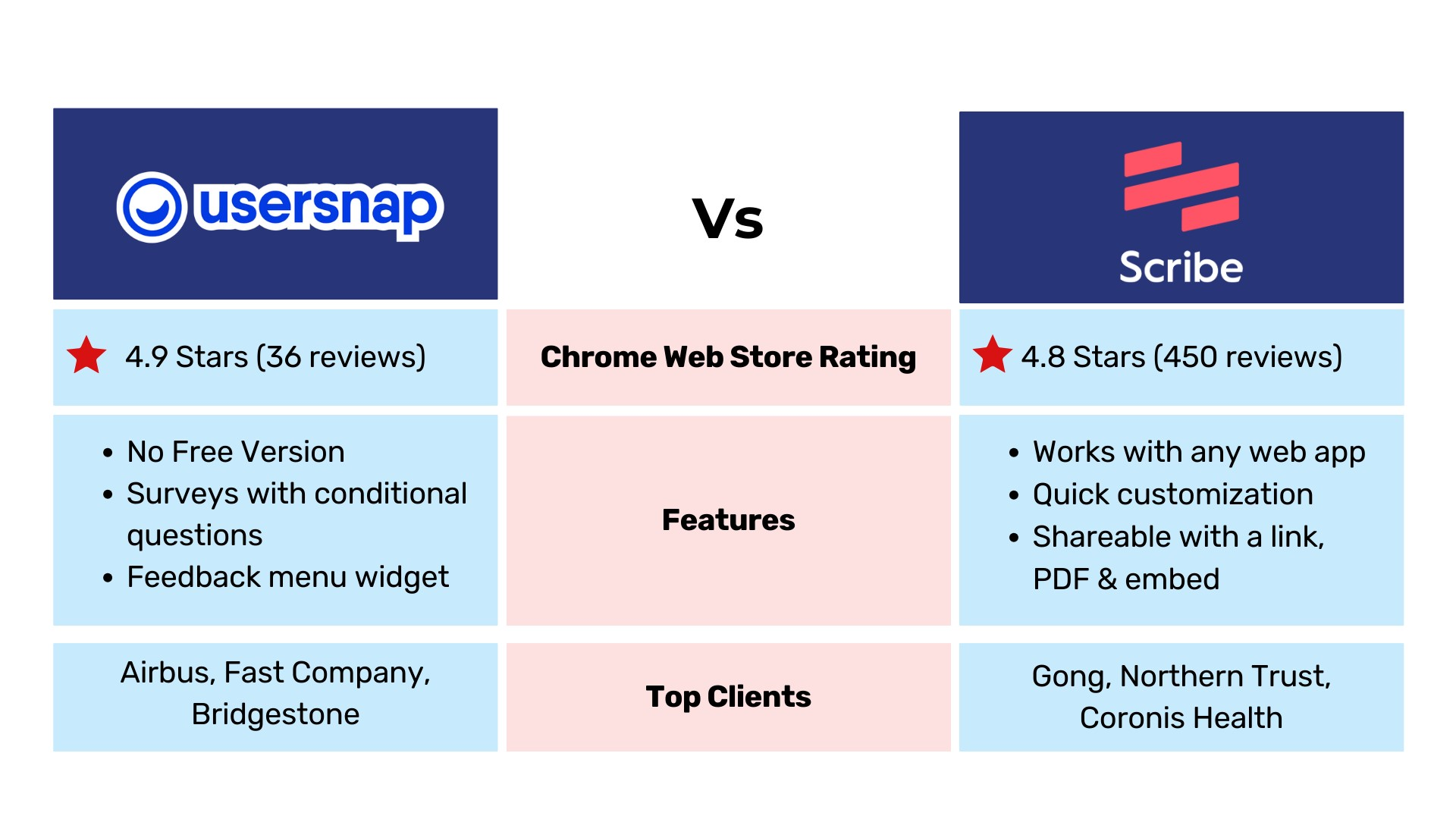 UserSnap Pricing
UserSnap offers a 15-day free trial. It's a chance to explore all the features available in our premium plans, giving you a taste of what it offers.
Here are the four pricing tiers:
Startup - $99/month: This plan suits those just starting out. It provides essential features for your web projects.
Company - $189/month: The Company plan offers additional features to enhance your web development if you're running a small to medium-sized business.
Premium - $329/month: The Premium plan is an option for those who want more advanced features.
Enterprise - $949/month (Billed annually): The Enterprise plan is designed for large organizations and has extensive functionality.
If you choose our yearly plans, you'll save some money. For instance, the Startup plan at $99/month costs approximately $69/month when billed annually.
UserSnap Customer Impressions
Let's take a look at some favorable feedback on Usersnap.
"The ease of installing Usersnap is by far the best thing. Within minutes the tool is up on any site we need and collects valuable feedback from our users."
On the flip side, some users have expressed concerns.
" Lack of basic features that help in day-to-day operations, simple things like ticking multiple bugs in the list, you would expect to be able to see the number of items ticked. Reported to have this added, no action as it's not part of the development focus."
FlowShare
Flowshare Vs. Scribe
FlowShare is a process documentation platform that offers a more streamlined set of features, including automated documentation and hands-off capture of workflows.
It runs in the background, recording every action you take on your computer, and automatically generates a step-by-step guide with screenshots and annotations.
To compare, Scribehow might be suitable for those who value a feature-rich tool but are willing to invest time in learning its intricacies, while FlowShare is an option for users looking for a more simple guide creation process for complex application processes with multiple steps.
FlowShare Pricing
A 14-day free trial is available to explore its features. Flowshare offers a pricing structure designed to cater to a variety of user needs:
Express: $21/month per workspace for individuals or small teams.
Flowshare Professional Single: $40/month per workspace for one person.
FlowShare Professional Teams 3+: $32/month per workspace for three or more teams.
FlowShare Professional Floating Licensing 10+: Custom pricing for larger teams and organizations with virtual environments.
FlowShare Customer Impressions
FlowShare has garnered some praise in g2/Capterra reviews.
"As a developer and now Co-Founder and CTO of a SaaS startup, this tool saved me 2 hours in the first week of using it. Going forward, I'll be deploying FlowShare as a default app to all our Dev's Laptops; no more excuses for non-existing documentation and no grumpy Devs, win-win!"
Let's also consider the less favorable opinions of users:
"FlowShare, in some ways, seems to be a little rough around the edges. For example, the markup function could be a little more refined. While there is a rectangular markup selection tool, it does not provide any ability that I can find to automatically create document references for each markup like exists in other products."
Why Gyde is the Top-notch Scribe Alternative
We've explored various tools for creating process documentation and standard operating procedures (SOPs), both free and paid options.
One standout tool is Gyde, which offers a free version with all the essential features. When you decide to upgrade to the paid version, Gyde's quite cost-effective than Scribe.
What sets Gyde apart is its strong focus on data security. It complies with GDPR, SOC 2 Type 2 and ISO and comes with TLS encryption, ensuring robust safeguards for protecting sensitive information within the processes you capture.
Give Gyde a try, and you'll likely find yourself becoming the go-to person for explaining any process.
FAQs
What are the top Scribe Alternatives and Competitors in 2023?
The top Scribe Alternatives and Competitors in 2023 are:
Gyde: Creates step-by-step guides and tutorials with ease.
Iorad: Capture, organize, and share knowledge with your team.
Tango: Record and share process tours with annotations and highlights.
Trainual: Create engaging and effective training courses.
Process Street: Automate your workflows and SOPs.
Uphint: Capture and share product feedback from your users.
Snagit: Create screenshots, GIFs, and videos to capture your ideas.
Loom: Record and share videos of your screen and webcam.
Usersnap: Capture and share bug reports and feedback with your team.
Flowshare: Create and share interactive guides.
What are Scribe's drawbacks?
Scribe has a few limitations, including limited customizability in its free version. To access features like longer guides, custom branding, and various export formats for a better instructional experience, you'll need the paid version. Editing photo or screenshot slides can be challenging, and they sometimes become too small for comfortable viewing.
Additionally, users have reported bugs in complex process recordings, with one stating that it frequently includes extra clicks and struggles with customizing markups. ScribeHow is better suited for simple guides, but not for more complex ones that involve decision-making or troubleshooting.
Is Scribe easy to use?
Scribe's user interface is generally clean and well-organized, making it easy for users to navigate. However, some may find it less intuitive than other Scribe alternatives due to the placement of certain features or menus. For individuals accustomed to user-friendly, streamlined interfaces, Scribe's layout and options could be a bit perplexing.