At first glance, Appcues, cleverly named as a contraction of "In-app cues," may appear to be a decent product adoption tool. However, as we delve deeper into its limitations and drawbacks, we find ourselves compelled to explore Appcues alternatives that hold even greater potential for our needs.
And what might be those needs?
You're in search of a solution that seamlessly integrates with your applications—a platform that empowers your customers by effortlessly guiding them, regardless of their location or the complexity of their queries.
You aim to enhance user engagement, reduce drop-offs, and maximize the return on their investment, making every penny spent on the application truly worthwhile.
If that resonates with you, here's a meticulously curated list of 6 Appcues Alternatives that cater to all your needs in one convenient place.
Before diving in, let's look at the downsides of using Appcues and why its alternatives are worth exploring!
Why Might You Want Appcues Alternative?
- Limited support availability
With support primarily based in the US, users often experience response delays due to time zone differences. Complicated email exchanges further prolong the resolution process. Thus taking a long time to solve a simple query.
- Low Service Quality
Appcues are also deemed unintuitive by users on Capterra. One prominent concern is that Appcues may promise functionality that requires additional product development. This can lead to frustration and unexpected hurdles.
- Cost Fluctuations
Appcues' pricing tiers can quickly become cost-prohibitive as your user base expands, making it difficult to manage expenses and allocate resources effectively.
Recently, Startups and businesses alike were taken aback when Appcues implemented a staggering 256% price hike for their lower-tier plan. This sudden and dramatic change in pricing is simply not viable for startups, creating financial strains and raising questions about their commitment to customer success.
In light of these concerns, we have curated a list of six Appcues alternatives that prioritize sustainable pricing models and foster long-term reliability.
Gyde
Gyde, the leading Appcues alternative, holds the top spot with its user-centric product adoption platform. You will experience top-notch customer service, industry-leading security, and seamless in-app guidance.  
Your users will encounter less frustration as they can engage actively with all application features through interactive walkthroughs, How-to guides, and accessible help articles.
For cost-conscious startups, Gyde presents the perfect solution, offering affordability without compromise.
So, let's dive into what Gyde can do for you.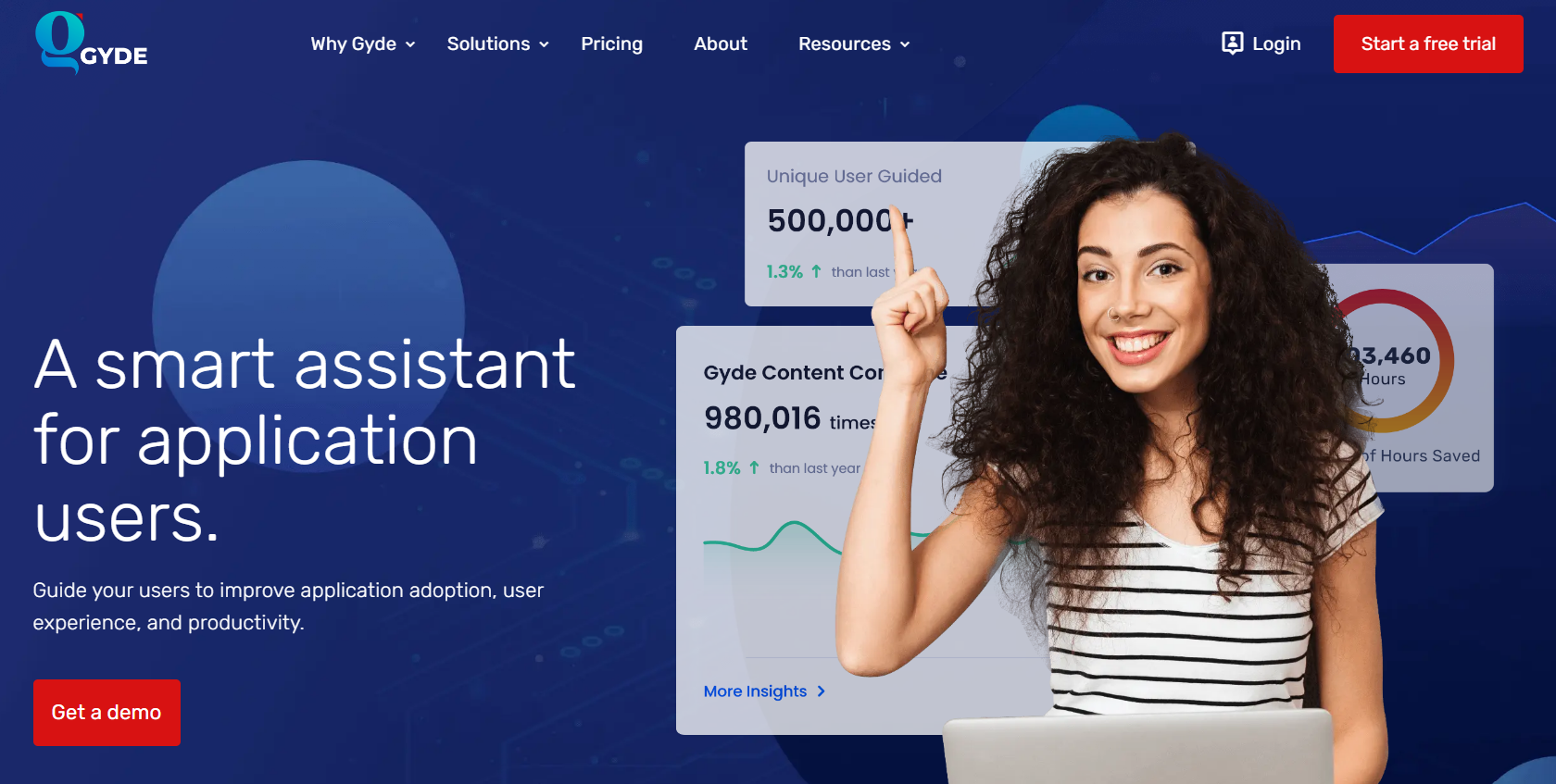 Key Features and Benefits

Comprehensive help articles act as a self-serve resource for users, enabling them to find answers to common questions and troubleshoot issues independently. Empower your users with the knowledge they need to navigate your product effortlessly.
Audio-Visual Walkthroughs:
Users can follow along step-by-step, visually observing the actions and listening to clear instructions, allowing them to grasp the processes and utilize the full potential of your application easily.
Easily create process step-by-step guides. Just perform the process while it automatically captures screenshots and creates the guide instantly. User can follow the step-by-step guides and learn any process without any confusion
Gather real-time insights with Gyde's feedback feature, where customers can provide feedback on the help they receive using smiley emojis. This allows you to make data-driven adjustments to your help articles, ensuring continuous improvement.
Gain valuable insights into user interest by tracking the views on walkthroughs, how-to guides help articles related to specific features. By analyzing which features garner higher views, you can identify areas where users actively seek guidance and tailor your support accordingly.
Expand your product's reach with Gyde's multilingual help capabilities. Cater to international markets by providing support in multiple languages, attracting a broader user base, and driving global expansion.

You don't need to be a coding wizard to guide your customers through your application. Its intuitive no-code platform allows you to create walkthroughs, help articles, how-to guides in no time and seamlessly embed them in your application for your users to follow.
Pricing
Gyde has a 15-day free trial for you to check out in practice.
There are three pricing plans - Air($99/mo), Startup($249/mo) and Enterprise(on-demand).
The pricing plans are designed to provide comprehensive features and benefits that empower you to drive effective user onboarding and engagement while optimizing costs.
Testimonial
On Capterra, Wurkr's COO reviewed Gyde as -
"Great working with the team at Gyde - who have helped us build the product tours and in-app messaging"
UserGuiding
Our second Appcues Alternative is UserGuiding. It is a comprehensive user onboarding and product adoption platform that packs a punch with its features. From interactive guides to hotspots and resource centers, they offer tools to help businesses create personalized user onboarding experiences.
With UserGuiding, your users can better understand and enjoy the benefits of your product in no time.
Key Features and Benefits
Guides: Enhance user experiences by providing essential elements for seamless onboarding and usage.
Hotspots: These static onboarding contents, known as Modal Media Hotspots, conveniently display relevant information about specific product items.
Onboarding Checklists: Organized guides in onboarding checklists help users navigate the onboarding process effectively.
Custom Attributes: UserGuiding allows grouping users based on any user attribute through custom attributes, enabling personalized product experiences tailored to specific user segments.
Pricing
User Guiding offers a 14-Day Free Trial and three pricing plans: Basic ($89/Mo), Professional ($389/Mo), and Corporate (On Demand).
All plans are billed annually, which may restrict flexibility. The Basic plan supports up to 2,500 Monthly Active Users, while the Professional plan supports up to 20,000 Monthly Active Users.
Adding additional users requires upgrading to the next plan, as there are no options to add users separately at a lower cost.
Testimonial
A Product Designer reviewed UserGuiding as-
"The most helpful thing is that as a product designer, I can define and set the guides ready and don't depend too much on our dev team to put everything together. I've had to reinstall the plugin a couple of times cause the app wasn't working."
Userpilot
Userpilot allows companies to create interactive onboarding experiences, product tours, and tooltips to guide users through their software or web applications. These on-screen guides can be customized and tailored to specific user segments, ensuring users have a smooth and intuitive onboarding process. That's what makes it a fair Appcues alternative to consider.

Key Features and Benefits
People & Tracking: A feature that allows tracking and understanding user behavior, preferences, and engagement within your software.
Product Analytics: Comprehensive insights and analytics on how users interact with your product, enabling data-driven decision-making.
User Engagement: Tools and functionalities to boost user engagement, promote feature adoption, and drive desired user actions.
User Feedback: Collect valuable user feedback to gain insights and improve software based on user suggestions.
Pricing
Userpilot offers a 14-day free trial for users to get started and experience the platform's capabilities.
There are three pricing plans - Starter, Growth, and Enterprise. The Starter plan is available at $249 per month if paid annually or $299 per month if paid monthly. The plan supports up to 2,500 Monthly Active Users (MAUs).
Testimonial
A small business owner reviewed Userpilot as -
"The reporting features are really useful in providing insight into how our users are accessing both in-app features and UP tours. But some tour creation features are a bit buggy and limited."
Whatfix
Whatfix is a digital adoption platform (DAP) that empowers businesses to create interactive on-screen guides and walkthroughs, facilitating user learning and software application usage.
While Whatfix offers powerful features, it may require technical proficiency, making non-technical employees beneficial.
Key Features and Benefits
Smart Tips: Contextual tooltips provide additional information about specific elements in the application.
Flows: Step-by-step instructions for learning objectives, task completion, or workflows.
Beacons: Pulsating spots highlight specific elements and grab users' attention.
Pop-Ups: Information widgets overlaying the entire application screen, notifying users about important events requiring immediate attention.
Pricing
The official website does not provide specific information about free trial days, but interested users can sign up and book a demo to explore the platform's capabilities in detail.
While the official website does not directly disclose pricing, according to information available on Capterra, the pricing starts from $1000 per year. The website does offer three distinct plans: Standard, Premium, and Pro.
Testimonial
A user reviewed Whatfix as-
Whatfix helps me to make sure the end users use the application correctly. In the beginning, it can be a bit much because you have a lot of Whatfix Tools, and you can use many role and page tags, which can be a bit complicated.
UserFlow
UserFlow functions as a digital adoption platform(DAP) with a primary goal of assisting businesses in effortlessly guiding their users through on-page processes.
The tool provides useful capabilities like user-friendly onboarding flows and on-page checklists. Let's further see some essential aspects -
Key Features and Benefits
Unlimited flows: Get advantage of creating an unlimited number of user flows, allowing for seamless and customizable onboarding experiences.
Resource Center: With a comprehensive resource center, they provides access to valuable documentation and support materials, empowering users to maximize their utilization of the platform.
Basic integrations: It offers basic integration capabilities, enabling seamless connections with other essential tools and systems for enhanced workflow efficiency.
Pricing
UserFlow has a free 14-day trial.
There are four pricing tiers – Startup($250 per month), Pro($750 per month), Scale($1,250 per month) and Enterprise(custom-made). Also, you can add additional bundles of 5,000 MAUs at $100/month.
Testimonial
A verified user reviewed UserFlow as-
"It is very easy to set-up tours and flows. It is difficult to share unpublished flows with people not in the segment."
Walkme
WalkMe has been at the forefront of the Digital Adoption Platform (DAP) industry since its establishment in 2011. As a cloud-based solution, WalkMe is dedicated to enhancing the user experience by providing interactive guidance and support.
WalkMe is not considered a no-code solution, as users typically require technical knowledge and background to implement and utilize the platform effectively.

Key Features and Benefits
WalkMe Editor: A powerful tool for creating interactive and personalized user experiences without coding.
Visual Designer: Enables the creation of visually appealing and engaging walkthroughs and on-screen elements.
Guidance & Engagement: Drives user adoption and engagement through targeted messaging, tooltips, and step-by-step guidance.
Workflow Automation: Automates complex processes and workflows, streamlining user interactions and increasing efficiency.
Pricing
WalkMe's official website does not provide specific information about its pricing structure. Also, they don't have a free trial or free version available.
However, it's important to note that WalkMe's pricing is significantly higher than Appcues.
Testimonial
An enterprise user adoption executive reviewed Walkme as follows -
WalkMe stands out for its intuitive guidance and personalized user experiences. While some users find its guidance disruptive, others may find the implementation process challenging or encounter compatibility issues.
Concluding Notes
Forget about Appcues and its limited support, low service quality, and unpredictable pricing. You're now armed with a list of Appcues alternatives to take your product adoption game to the next level.
Take your pick, find the perfect fit for your needs, and prepare to wow your users with an unforgettable experience. The choice is yours, and the path to product adoption success awaits!
Why is Gyde the best Appcues Alternative for you?

With Gyde's impressive features, you'll experience a significant reduction in support needs.  Your customers will be delighted with a crystal-clear understanding of your product, fully embracing its every feature.
All of this is with a wallet-friendly approach that empowers small to medium businesses to grow with ease. You need scalability to achieve the best user experience, and Gyde allows you to achieve just that.
Don't wait another moment—book a demo today and discover how Gyde can effortlessly elevate your product without altering a single thing, seamlessly integrating with your user interface.

FAQs

What are the best Appcues alternatives?
Some of the best Appcues alternatives include:
Gyde
UserGuiding
Userpilot
Whatfix
UserFlow
Walkme
These alternatives offer a variety of features and pricing options, so you can choose the one that best suits your needs.
What are the pros and cons of Appcues?
Appcues boasts a wide array of features, including in-app tooltips, walkthroughs, and surveys, making it highly versatile and well-integrated. However, some users find its extensive range of features overwhelming and unintuitive, leading to a cluttered interface.
Moreover, the cost can be a drawback, and limited customization options may not align with certain users' preferences.
How do I choose the best Appcues alternative for my needs?
When choosing an Appcues alternative, you need to consider your specific needs and requirements. Some factors to consider include:
The size of your customers
The type of product you are using Appcues for
Your budget
Your technical expertise