A recent HBR Analytic Services survey revealed – a staggering 89% of leadership executives consider driving the adoption of employee-facing software as a moderate to high priority!
Safely assuming – you share the same perspective and prioritize software adoption.
As you've landed on this blog post, you've probably considered Apty to help with software adoption. But if you look closely into it, you'll figure out many drawbacks(we'll discuss them in the following section).
Alternatively, if you're currently using it and looking for superior Apty alternatives, you've come to the right place.
For those unfamiliar with Apty – it's a digital adoption platform that enables its users to adopt enterprise applications faster by providing on-screen guidance and on-the-job training.
In this blog, we will delve into five exceptional Apty alternatives, along with their key features, pricing, and what their customers think.
Why look for Apty alternatives?
When considering Apty alternatives, there are several reasons why you might want to explore other options:
Cumbersome UX/UI -
Apty has received feedback from users regarding its clunky user experience(UX) and user interface(UI). The application can feel overwhelming due to the many features packed together, making navigating challenging.
The essence of a digital adoption platform (DAP) lies in providing a seamless experience for users. If this transition becomes cumbersome and complicated, it completely defeats the purpose of using Apty to improve user adoption and proficiency.
Integration Issues -
Some users have reported problems with integrations when using Apty. Integration capabilities are crucial for a DAP, enabling seamless interaction with other software systems, and Apty doesn't perform according to a user:
There are a lot of updates that don't necessarily mesh with our LMS, meaning we often have to reset or repeat workflows.
Lack of User assessment -
Apty is missing a crucial feature for a digital adoption platform - user assessment. It's a feature that checks how well users grasp the software's ins and outs, skills, and overall learning progress.
But don't sweat it! We have compiled a list of alternative options that provide all the features and benefits that Apty lacks.
A little something you should know –  All listed alternatives are no-code digital adoption platforms. Use them to create interactive tutorials, tooltips, and walkthroughs using simple interfaces without any coding knowledge, empowering you and your team to self-create help resources. These alternatives cater to employees-facing and customers-facing applications, ensuring a seamless user experience for all.
Now, let's dive into our first Apty alternative - Gyde!
Gyde
Speedy Summary
Deployment Options: Cloud, Web-Based, Desktop, Mobile (Android, iPhone)
Capterra Rating: ⭐⭐⭐⭐⭐(5 Stars)
Recommendation Rate: 100%
Trusted by Major Clients: Verizon, Fidelity Investments, South County Health, Bajaj Allianz
Gyde is a smart digital adoption platform that seamlessly integrates into applications, effortlessly empowering your workforce to navigate their daily application processes efficiently and easily.
As we discussed features Apty hasn't been very good at, Gyde excels at them!
First off, Gyde has a super simple and intuitive UI/UX, making it a breeze to use. Plus, there are no integration issues, as we found out from the reviews.
Let's see what it can do for you!
Gyde's Advantage
Audio-Visual Walkthroughs provide employees with a thorough and efficient method for comprehending complex application processes by breaking them down into step-by-step instructions.
Less burden on IT Support Teams:
Having Help articles within the app eliminates the need for separate knowledge base platforms for troubleshooting employee queries. Your employees can access an overview of all help articles within the app anytime they want!
Data-driven Application Adoption:
By analyzing the usage of help articles and walkthroughs through analytics, you can gain valuable insights into how employees utilize help content. This data can then be used to optimize the content for more effective use.
Help in multiple languages:
Ditch the hassle of creating separate walkthroughs and help articles for different languages! You can effortlessly add various languages and allow your employees to auto-translate ongoing help content into their preferred language.
After your employees have completed the application process, Gyde takes the lead by proactively triggering In-app Assessments. These assessments are designed to gauge employee comprehension and retention, ensuring your help content truly sticks.
Bottom line - Make your employees self-sufficient problem solvers with Gyde.
Pricing and Free Trial
Gyde provides a free trial of 15 days for users to experience their services.
It offers three pricing tiers: Air, Startup, and Enterprise, with pricing available on demand.
Additional POV - Gyde is a versatile digital adoption platform that caters to both employee-facing and customer-facing applications. It offers affordable and flexible pricing options for startups and enterprises alike.
Customer Testimonial
Gyde has garnered top-class ratings from its clients across various sectors, including banking and education. Here is a praising review from Capterra:
"The content is easy to understand, and the videos help the user to understand navigation of the system while using the system. No need to go to another document or reference for navigation support. it is available within the system itself. Real-time assistance while navigating the system."
Userlane
Speedy Summary
Deployment Options: Cloud, SaaS, Web-based
Capterra Rating: ⭐⭐⭐⭐🌟(4.5 stars)
Recommendation Rate: 90%
Trusted by Major Clients: Hitachi, Celonis, Forto
Userlane is our second choice as an Apty alternative, offering fantastic features like HEART analytics for detailed insights into application processes and user behavior sentiments.
While Userlane excels in analytics with HEART insights, it may lack branding and customization compared to Apty. Nevertheless, Userlane shines with its fast integration and quick deployment, making it a sensible all-around choice.
Key Functionalities
Multiple hosting options: Userlane allows their customers to choose the hosting environment that best suits their needs, resources, and security considerations.
Content creation engine: They provide a powerful engine for creating and managing content, empowering users to create engaging and interactive experiences.
Unlimited in-app guides, tooltips, and announcements: Userlane allows for creating and deploying unlimited in-app guides, tooltips, and announcements to provide seamless on-screen assistance and communication.
Pricing and Free Trial
Userlane does not provide a self-accessible free trial option. Instead, you are offered a guided trial experience upon requesting a demo.
Moreover, their official website does not provide comprehensive information regarding their pricing structure.
Important to note: Userlane is built on top of the HTML DOM structure, which can sometimes lead to minor disruptions after a new release. While rare, such issues may take some time to resolve.
Customer Testimonial
Reviews for Userlane on platforms such as Capterra and G2 vary, with both positive and negative comments.
"This software is useful as it lets us reach all of our customers with custom announcements and allows us to create guides that are useful for our users and help new users understand our platform. I think there could be more customizability on the platform with guides and announcements id like to be able to format text better and include more images in announcements."
Whatfix
Speedy Summary
Deployment Options: Cloud, SaaS, Web-based, On-Premise (Windows, Linux)
Capterra Rating: ⭐⭐⭐⭐🌟(4.6 stars)
Recommendation Rate: 88%
Trusted by Major Clients: Wipro, Sentry, PlanetHS
Whatfix, a renowned digital adoption platform, caught our attention as a potential third Apty alternative, primarily due to its strong focus on enterprise needs.
With an unparalleled ability to boost software adoption and streamline employee onboarding, Whatfix brings forth a suite of advanced features that outshine Apty.
Key Functionalities
Content Aggregation: Whatfix enables you to collect and organize diverse content types from multiple sources, making presenting relevant information to users within the application interface easier.
Guidance Analytics: Gain valuable insights on user engagement, track content completion rates, and analyze user interactions through an easy-to-understand dashboard.
Automated Testing: This allows you to validate that your flows and processes work as expected, ensuring smooth functionality and addressing any issues caused by changes in the application's user interface.
Pricing and Free Trial
Whatfix's pricing page showcases three enticing plans: Standard, Premium, and Pro. However, specific pricing details remain undisclosed.
While they do offer a free trial, the duration remains unspecified.
Keep in mind, the pricing for each product and plan involves a flat fee alongside user license fees. Comparatively, Apty proves to be a more budget-friendly option, especially when considering Whatfix's Fortune 500 clientele and extensive enterprise presence.
Customer Testimonial
The reviewer consensus is positive for Whatfix, although a subset of users notes a few drawbacks.
"I love that I can continuously grow the help library we have for our customers simply without needing the help of my developers. Their teams are largely based in India, so their internet connections can be a challenge. Also timing for US timezones and holding meetings can be difficult."
Inline Manual
Speedy Summary
Deployment Options: Cloud, SaaS, Web-based
Capterra Rating: ⭐⭐⭐⭐🌟(4.3 stars)
Recommendation Rate: 80%
Trusted by Major Clients: SAI Global, LMC, Pipedrive
Inline Manual is a highly customizable user onboarding and adoption tool that seamlessly integrates into any application. We were particularly impressed by its version control feature, allowing different versions to be used in various development stages: test site, QAs site, and production site.
One notable limitation, however, is the lack of customization options for user data analytics. Nevertheless, Inline Manual still outperforms Apty with good support and reasonable prices for complex options.


Key Functionalities
Interactive walkthroughs: Offers interactive step-by-step guides to help users navigate and understand the product or service, ensuring a seamless onboarding experience.
Tooltips and hotspots: Provides tooltips and hotspots highlighting specific features or elements within the application interface, offering contextual guidance to users.
Checklists and Resource Centers: Enables the creation of checklists and resource centers, allowing users to access relevant resources and follow curated steps to accomplish tasks efficiently.
Pricing and Free Trial
Inline Manual provides a 14-day free trial for users to explore their services. While no specific plan tiers are mentioned on their website, there is a note indicating that plans start at $158 per month.
Customer Testimonial
Inline Manual has limited reviews on software rating sites, with most feedback coming directly from customers on their website.
"The best feature is the over-the-phone support available. Many issues with myob software that need constant rectification"
AppLearn
Speedy Summary
Deployment Options: Cloud, SaaS, Web-based, On-Premise (Windows, Linux)
g2 Rating: ⭐⭐⭐⭐🌟(4.8 stars)
Recommendation Rate: 88%
Trusted by Major Clients: Electrolux, Dôvera
AppLearn is our last pick as an Apty alternative, as it is so versatile. With tooltips and smart pages, it excels at delivering contextual information in real time, optimizing user experiences, and driving digital adoption for businesses.
Applearn's tooltips organization, as of 2023, lacks variety and is solely based on the most recently edited. In contrast, Apty provides a more sophisticated approach, enabling users to group tooltips by tags or organize them into folders for seamless sequencing.
Key Functionalities
Side-panel resources - Quick access to information, guides, and FAQs through a convenient interface, enhancing productivity and user experience.
Support desk integration - It enables seamless communication with support teams, allowing users to submit tickets directly from the application for efficient issue resolution.
Self-service help editor - It empowers users to create and customize their own help content, improving user onboarding and support by providing user-friendly tools for creating knowledge bases, walkthroughs, and tooltips.
Pricing and Free Trial
Applearn does not disclose its pricing upfront on its website. Additionally, Applearn does not offer a free trial option.
Customer Testimonial
Applearn's presence on software listing sites like Capterra and G2 reveals diverse experiences, including favorable and unfavorable feedback.
"It's intuitive and very easy to use. It offers a variety of options when wanting to place resources allowing a level of customization adapted to the final user creating a unique experience. Adjustments needed: change resource status without entering edit page, select and transfer multiple resources between environments for improved content creator experience."
Final Comparison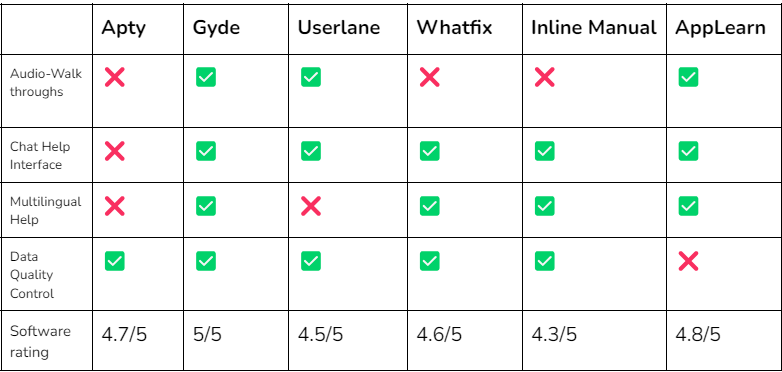 Why is Gyde the best Apty Alternative?
Gyde has firmly established itself as the premier Apty Alternative, and the reasons behind its unrivaled superiority are abundant.
First and foremost, Gyde shines with its stellar customer support.
Once you embark on your journey with Gyde for application guidance, you can rest assured that our dedicated customer service team will swiftly attend to any challenges you may encounter.
With no lengthy turnarounds, we provide seamless solutions to help you unlock the application's full potential with utmost ease.
Another factor – Data security is our unwavering commitment. As evidenced by our prestigious certifications, including GDPR, SOC 2 TYPE II, and ISO 27001, we go the extra mile to safeguard your invaluable data.
With Gyde, your information remains fortified, granting you peace of mind to focus on propelling your business forward.
Why wait? Book your demo with us and see for yourself!
FAQs
Who are Apty's competitors?
Gyde - A DAP that stands out for its smart UI/UX and exceptional application guidance features surpassing those Apty offers.
Userlane - A DAP is known for its powerful analytics capabilities, enabling organizations to gain valuable insights into user behavior and interactions.
Whatfix - Focused on catering to enterprise needs, Whatfix offers a DAP solution tailored to larger organizations with complex requirements.
Inline Manual - Setting itself apart with its robust version control feature, Inline Manual offers advanced functionalities even in its basic plan
AppLearn - Known for its versatile feature set, AppLearn offers a well-balanced combination of capabilities in its basic plan
What is the cost of Apty?
The cost of Apty can vary depending on factors such as the organization's size and specific requirements. Apty doesn't showcase its pricing on the official website.
What does Apty actually do?
Apty is a digital adoption platform that helps businesses improve user adoption and engagement with their software applications. It provides on-screen guidance, analytics, and feedback collection to enhance user experience and productivity.