Want to give your sales team a competitive edge in 2023? Here's how:
First, prioritize continuous learning by investing in sales training programs and resources. This will help your team stay up-to-date with the latest sales techniques and industry trends.
Second, foster a culture of open communication, regular feedback, and constructive criticism. This will help your team collaborate effectively, identify areas for improvement, and implement solutions.
Third, leverage technology to help your team streamline workflows, analyze customer data, and make informed decisions.
Your sales team is the backbone of your business, and giving them the right tools is crucial to achieving success. That's why investing in sales training software prioritizes continuous learning, fosters open communication, and integrates the latest technology.
Nevertheless, it can take time to decide which sales training software is best, given the wide variety of options available.
That's why we've compiled a list of the top sales training software for 2023.
But before we delve into the specifics, let's discuss the importance of sales training software.
Advantages of Sales Training Software
Did you know that companies that invest in sales training experience 50% higher net sales per employee? Despite this, we see 55% of the people making their living in sales need more tech skills to succeed.
Investing in sales training software is a wise decision that offers numerous advantages to organizations, including:
increased productivity
maximization of software potential
employee empowerment
enhanced job satisfaction
By prioritizing sales training software, companies can improve their financial performance and maintain a leading position in their industry.

Criteria for Selecting Sales Training Software
Customizable content delivery: Ensure that the sales training software allows you to tailor the content to the specific needs of your team. This can include customizing the language, content type, and delivery method (e.g., video, audio, text).

Progress tracking abilities: Look for a solution that allows you to track the progress of your team's learning and development. This can include features such as quizzes, assessments, and reporting tools.

Gamified elements: Gamification can be a powerful way to engage your team and make learning more fun. Look for sales training software that includes features such as leaderboards, badges, and rewards.

Onboarding components: Onboarding is an essential part of any sales training program. Look for software that includes onboarding components such as new hires, product, and customer training.

Integration with other tools: The sales training software you choose should integrate seamlessly with other tools your team uses, such as your CRM, marketing automation platform, or other sales enablement tools.
By considering these factors, you can select a sales training software that aligns with your team's needs and goals and helps them improve their performance and productivity.
Whether you're looking for sales management, enablement, coaching, or general training, there's a solution to enhance your team's performance and productivity. Therefore, let's explore the top sales training software for 2023 without further ado!
7 most effective sales training software
1. Gyde
Gyde's digital adoption platform stands out in the competitive world of sales training software. As an enterprise-level sales software adoption solution, it provides exceptional guidance for your organization's sales team training. But what sets it apart from the rest?
Well, Gyde seamlessly integrates with various sales applications that your reps may use: Salesforce, Microsoft Dynamics 365, Oracle NetSuite CRM, Zoho CRM or any other application. With features like step-by-step audio-visual walkthroughs and contextual help articles readily available within the application, sales reps can learn the applications while at work.
With these powerful features, you can effortlessly guide your employees through complex processes and quickly maximize the ROI of your sales software.
Features

Contextual Training - Provide context-based guidance that is highly relevant to each sales rep role. This personalized approach will enhance their productivity and foster a sense of engagement and motivation within your team.
Just-in-time Learning Approach - You can deliver the right info to sales reps at the right time. For sales reps who need assistance with complex sales application processes, walkthroughs, help articles, and FAQs are available in-app.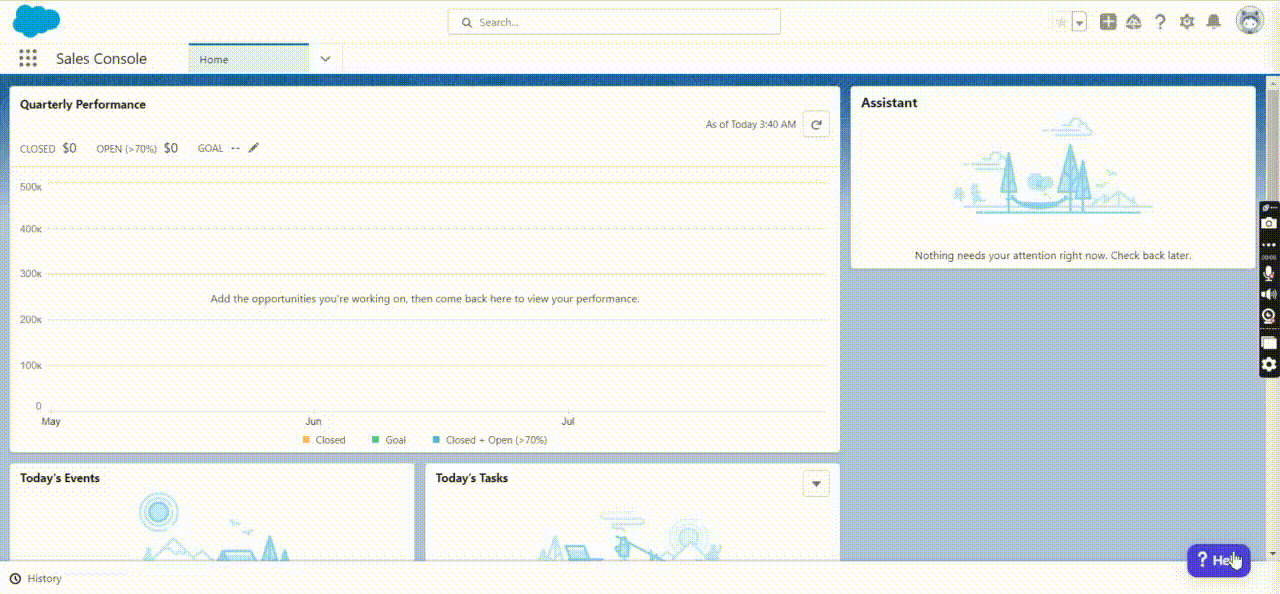 Accessibility - To support distributed sales teams across regions and countries, all the help is available in multiple languages. Easily integrated into your existing sales stack, Gyde allows your team access to relevant software training in their preferred language.

Analytics - Monitor the progress by seeing how many have viewed the help provided. With the ability to quickly make adjustments, Gyde lets your sales team ace their application use.

In-App Assessments - Take quick tests after reps complete processes to determine how well they understand them. Plus, training managers can have real-time reporting to measure learning outcomes.

Data Validation - Prevent errors in customer information, sales figures, and product details. Increase data accuracy from the start, with Gyde's field validation feature.
Pricing
Gyde has three plans-
Air plan starts from just $99
Startup plan starts from $199 per month
Enterprise plan will get a custom quote
Gyde also offers a Free Trial for 15 days.
Reviews
Gyde's review by Bajaj Allianz Life Insurance -
Gyde has helped us to enhance the digital adoption in one of the flagship employee programs at Bajaj Allianz Life Insurance Co. Ltd. Gyde walkthroughs have restructured and revamped the way our employees experience a new application with training videos and FAQs being embedded into the screen. With this, our employees will be able to adapt to the new applications much faster and become proficient in them independently.
2. EdApp
EdApp is a mobile learning management system (LMS) designed for trainers and managers to access learning content across multiple devices. It features a built-in authoring tool for creating courses and an app for delivering them to students. EdApp uses gamification to keep students engaged and analytics to track employee progress.
Features
Templates for course creation: Easily create new courses without starting from scratch.

Drag-and-drop functionality: Move content around and adjust the layout easily.

Chat for employee feedback: Employees can ask questions and provide course feedback.

Translation capabilities: Trainers can create courses in multiple languages easily.
Pricing
Pricing Versions-
Free Self-Authored Version - Free for all
DIY Self-Authored Version - US $2.95 per active user/ month
Managed (Built for you) version - US $2.95-$5.95 per user/ month
Enterprise (Custom)

EdApp offers a Free Trial for DIY Version.

Reviews
A Senior Manager at an Enterprise says -
Having an all-in-one LMS and authoring tool is desirable. I especially like how easy it is to author a course. Having a course library is very helpful too. It is editable and growing all the time! One of the downsides of EdApp is that there currently needs to be a better structure for adding individual users to courses as needed. As an admin, I want my "Manager Analytics" users to be able to register their users into courses as they wish. As an admin, I need help registering individuals into courses. I am required to register based only on user groups. This is annoying, quite frankly. It seems very restrictive.
3. Looop by 360Learning
Looop is the perfect Learning Management System (LMS) for sales leaders and managers looking for an efficient and modern approach to employee training. You can deliver training directly to employees and partners through multiple channels like email, chat, app, or SMS.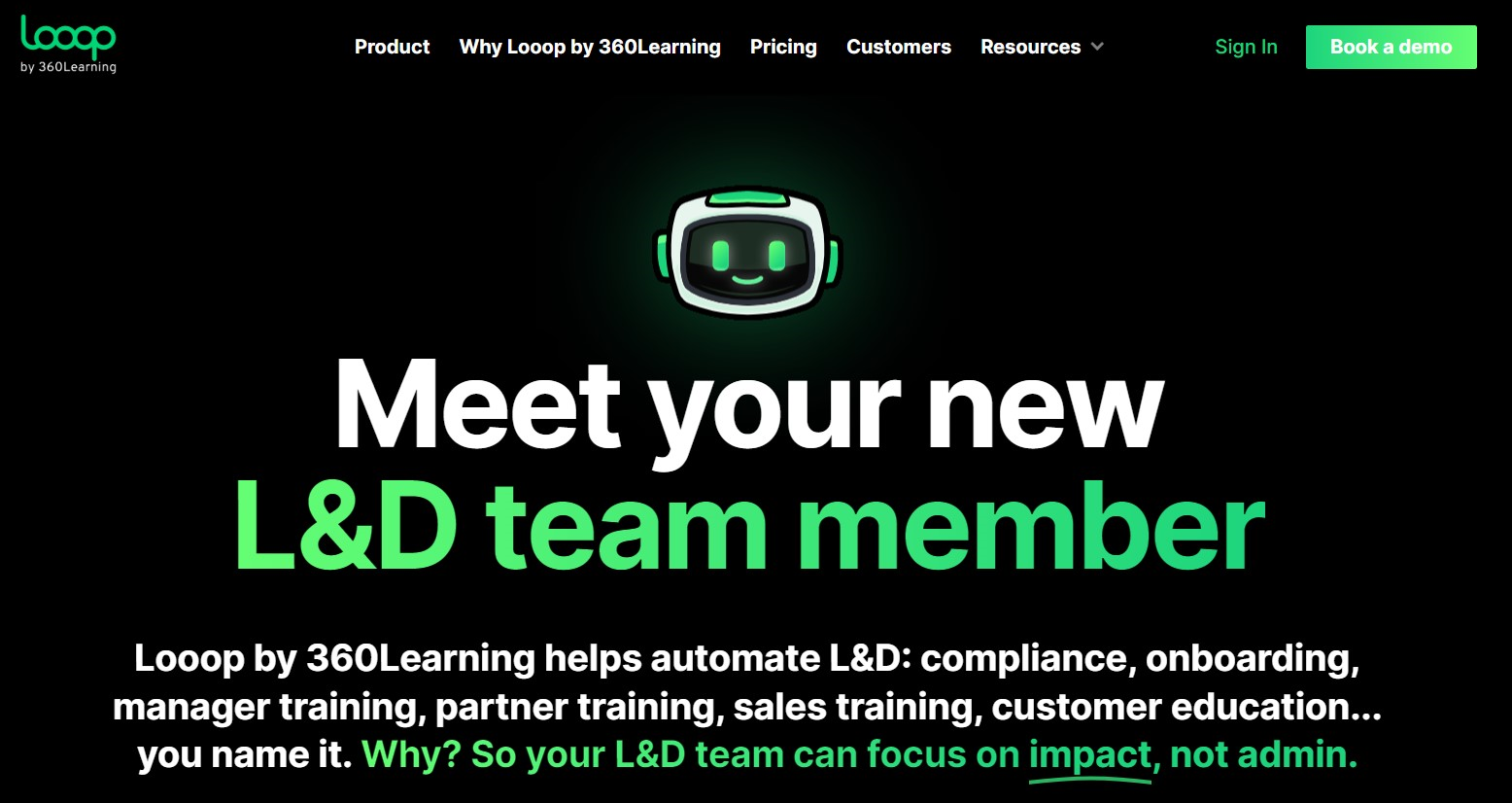 Features
Personalized Learning Paths: Enables learners to progress at their own pace, ensuring maximum engagement and retention.

Microlearning: Delivers bite-sized content, making it easier for learners to understand and apply what they've learned.

Gamification: Makes learning more engaging and enjoyable by adding game-like elements to the training.

Advanced Analytics and Reporting: Enable L&D teams to track progress and make data-driven decisions.
Pricing
Pricing Tiers -
Small Business: Up to 50 users
Mid-Size Business: Up to 250 users.
Enterprise: Up to 500 users
Enterprise Plus: More than 500 users
All plans come with a free trial.
Reviews
An Instructional Designer reviewed Looop as -
Looop thinks about corporate learning differently, which has helped us to start thinking about employee learning in terms of who needs to know and do what. Some functionality would be useful to have that is still being built - Zoom integrations, bidirectional messaging, etc.
4. MindTickle
Mindtickle Sales Readiness platform enables top-notch organizations to enhance their revenue growth by improving their understanding of optimal sales techniques, boosting their knowledge, and adapting to changing circumstances.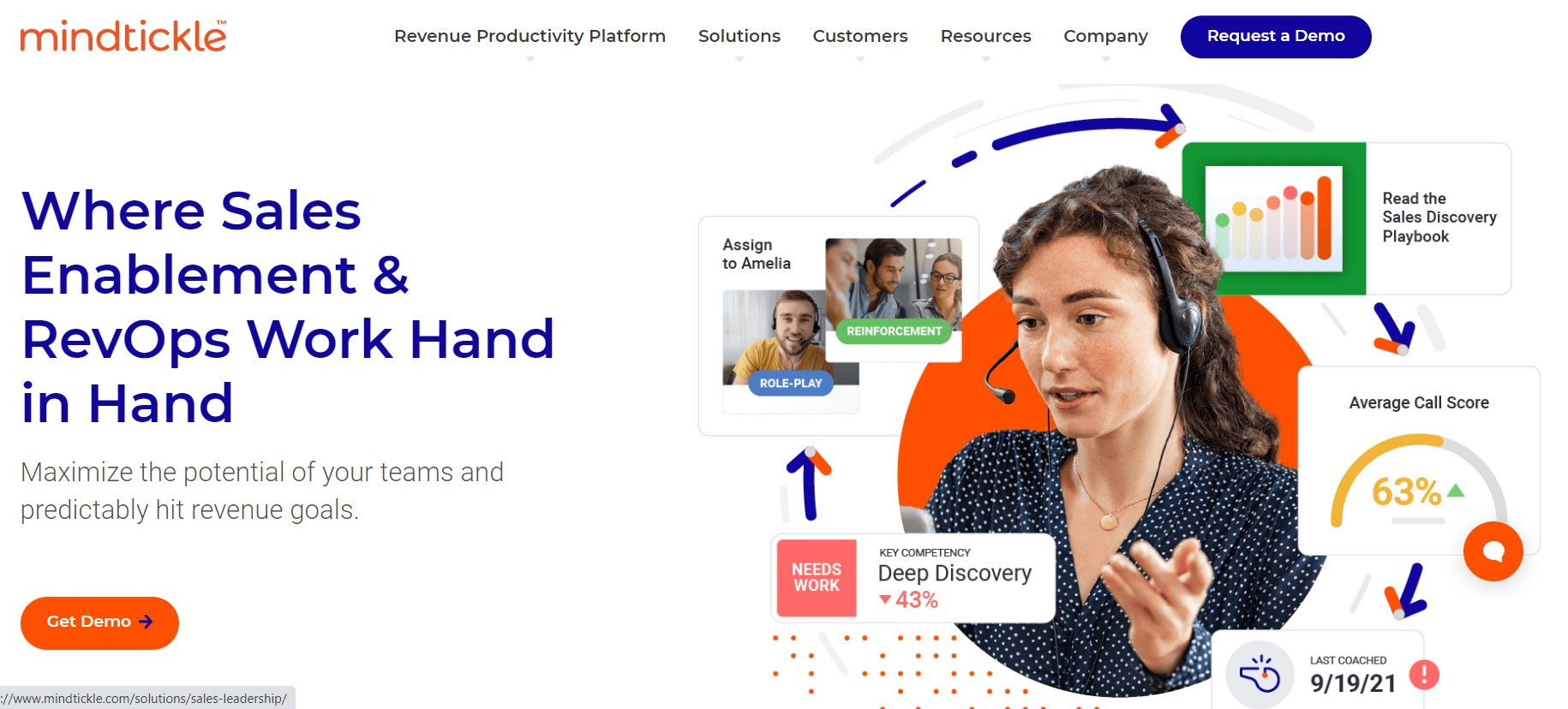 Features
Assessment Management: Efficiently manage and administer assessments and exams for learners.
Blended Learning: Combine various types of learning, such as online and classroom-based, to create a well-rounded training experience.
Built-in Course Authoring: Create custom courses within the training platform, eliminating the need for external course authoring tools.
Gamification: Incorporate game-like elements, such as badges and leaderboards, to motivate and engage learners.
Pricing
Pricing plans and tiers aren't displayed on the official website. Also, they don't have any Free Trial, Free/Freemium Version, or Premium Consulting/Integration Services.
Reviews
An Instructional Designer says -
Using MT, we built our product training and certification curriculum from the ground up. From day one, the interface was intuitive and easy to learn. The variety of files MT supports makes it very easy to use Articulate Rise, etc. There are little things that are mostly just for convenience that would be 'nice to haves". For example, if you create a topic within a course, it would be nice to copy that one topic and copy/paste it into another module. You can only do this on the module level.
5. Allego
Allego's platform is designed to enhance the performance of sales and other teams by integrating learning, content, and collaboration into a single app tailored to the workflow flow.

Features
Content management system (CMS): Manage and organize course content in one central location.
Collaboration and communication tools: Foster communication and collaboration between learners and instructors.
Video coaching and feedback: Provide personalized feedback to learners through video coaching.
Mobile app accessibility: Access training content and tools on the go through a mobile app.
Pricing
Allego does not offer a free trial or a free/freemium version. However, the platform provides premium consulting and integration services to assist with setup, customization, and ongoing support for enterprise and mid-market companies.
Reviews
A Sales Engineer reviews it as -
Allego's call recording feature is a favorite of mine, as its conversation intelligence system enables us to review and assess recordings, which helps us identify mistakes and improve our skills.  I don't have a strong aversion toward Allego, but the limitations of its user interface are a downside. I want to customize specific sections to make them less cluttered.
6. SalesHood
Saleshood is a sales enablement and training platform that helps organizations improve the performance of their sales teams by providing them with the tools, content, and training they need to be successful.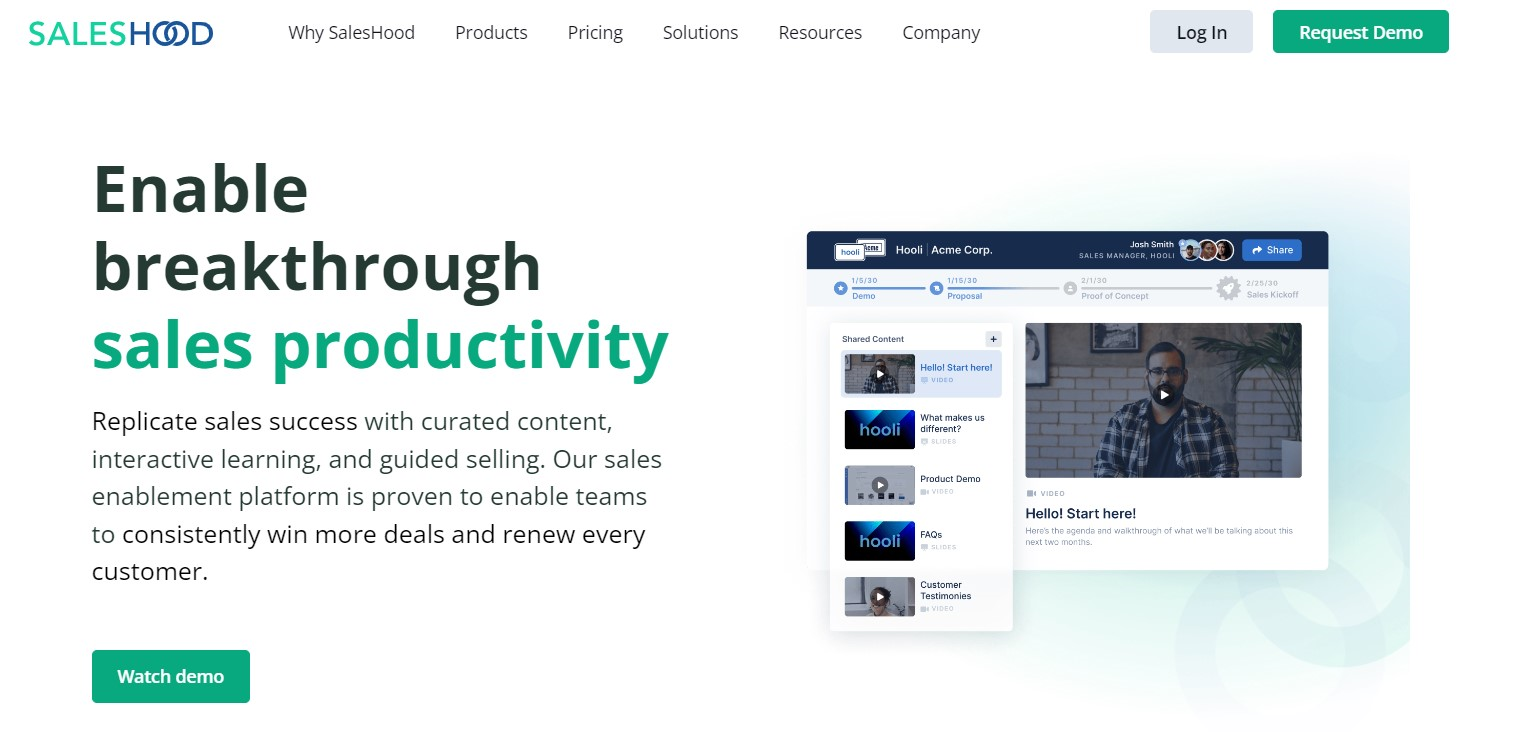 Features
Activity Dashboard: Provides a visual representation of training progress and completion for learners and management.
Task Management: Assign and track tasks to ensure learners stay on track and meet training goals.
Performance Management: Track and analyze learner performance to identify areas for improvement and make data-driven decisions.
Training Management: Manage and oversee all aspects of training, from course creation to reporting, in one centralized platform.
Pricing
Saleshood offers a per-user pricing model starting at $50 per month.
They have three pricing tiers -
Saleshood offers a free trial.
Reviews
Here are some Capterra Reviews on SalesHood-
Saleshood is very useful since the reps can now train in their own station at their preferred time. Sometimes, reps need clarification on how to proceed to the next page, so they tend to write something on the notes section at the bottom, thinking that's the key to being able to move forward.
7. Brainshark
Brainshark is a cloud-based sales enablement and readiness platform designed to help businesses improve sales productivity, increase win rates, and enhance customer engagement. It offers a variety of features such as content authoring, training and coaching, sales analytics, and more.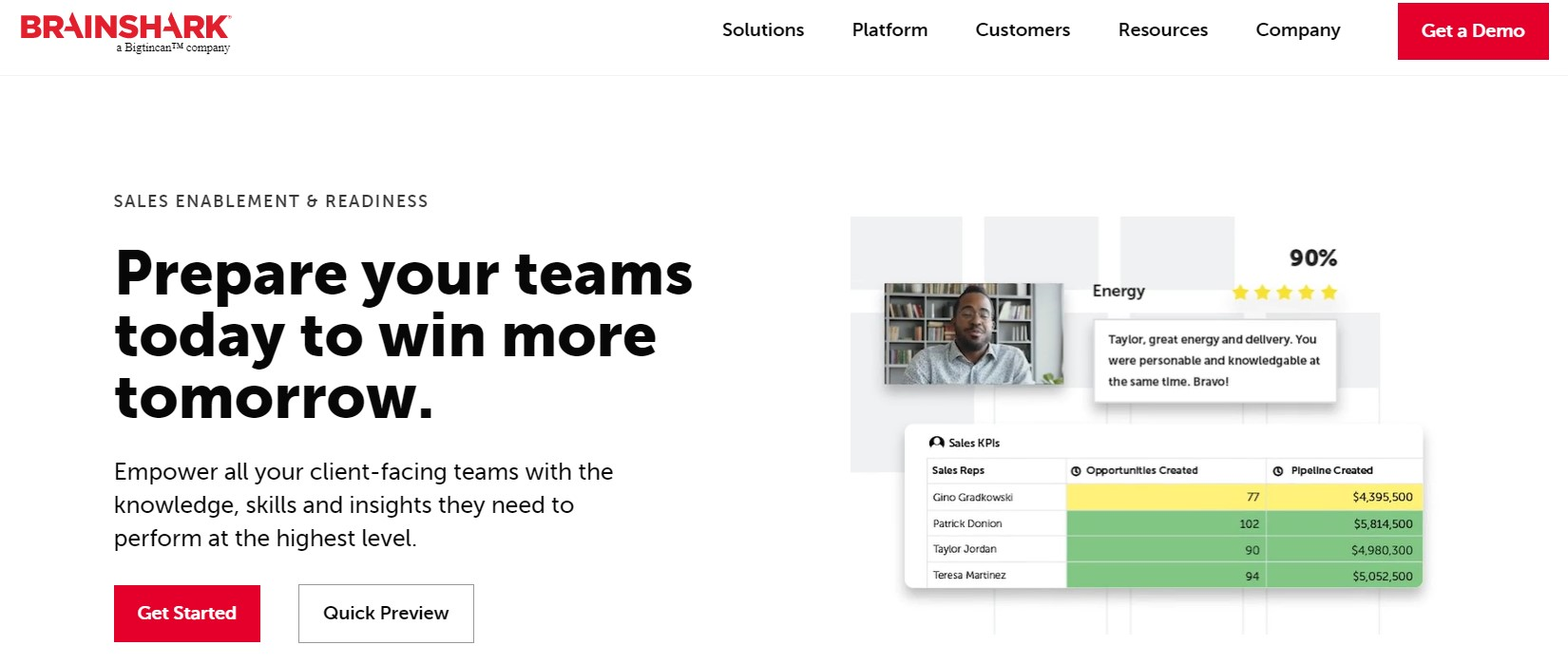 Features
Learner Portal: A web-based platform that provides learners access to training content, progress tracking, and communication tools.
Asynchronous Learning: Allows learners to complete training at their own pace, without requiring live instruction or scheduled classes.
Certification & Licensing: Earn certificates or licenses upon completing specific training courses or programs, demonstrating their mastery of the subject matter.
Pricing
Each Brainshark solution is purchased on a per-user basis as an annual subscription.
There are two pricing options - Pro and Premier.
No Free Trail Available.
Reviews
Here's BrainShark's Review on Capterra -
Our merchandising and sales teams already benefit from advanced Brainshark training, as it allows team leaders to plan sequential courses to suit the needs of their team members. I don't like that the web-based software version is flash based. This requires browsers that support Flash.
Why is Gyde the Best Sales Training Software?
Gyde stands out as one of the best sales training software due to its comprehensive features covering every aspect of sales enablement
We cut straight to the chase and focus on solving the most prominent challenge sales teams face: agile adoption of sales applications!
Building upon the features and customer reviews shared in the blog above - we are the definitive solution to tackle this obstacle head-on.
We don't need to convince you further; instead, we're here to ask how can we improve your processes?
So go ahead and book a call with us today to see how Gyde can accelerate your sales success!
FAQs
1. What is sales training software?
Sales training software is a digital platform that provides salespeople with training and development resources to improve their skills and performance. It can deliver various training content, including videos, interactive modules, quizzes, and assessments.
The sales training software can include features such as gamification, progress tracking, personalized learning paths, and analytics. It allows organizations to provide effective and engaging training resources to geographically dispersed sales teams.
2. What are the types of sales training?
Types of sales training:
Product knowledge training: Teach salespeople about the products they sell.
Sales skills training: Focus on developing specific sales skills like prospecting, presenting, and closing deals.
Industry-specific training: Train salespeople on industry trends, jargon, and regulations.
Technology and tool training: Help salespeople learn how to use sales tools and software effectively.
Onboarding and orientation training: Orient new salespeople to the company culture, processes, and policies.
3. What four methods are used for delivering sales training?
Methods of delivering sales training:
Instructor-led training: A traditional approach where a trainer delivers the training material to learners in a classroom or virtual setting.
E-learning: A self-paced, online approach to sales training that allows learners to access training materials anytime, anywhere.
On-the-job training: A hands-on approach where learners receive training while performing their job duties, allowing them to apply what they learn immediately.
Coaching: A personalized approach where a coach provides one-on-one guidance and feedback to help learners improve their sales skills and performance.