Transform how your employees use a knowledge base and experience more seamless, productive, and hassle-free work processes - with no more knowledge siloes or IT support headaches to slow them down.
Your employees can:
Access training materials on demand in one centralized location.
No need to wait for an expert to respond & solve their queries
Won't lose valuable knowledge - implement a transfer system for staff changes.
Stay engaged and connected while working remotely.
To save time, we will look at some of the best knowledge-base software your employees can use!
But before that…
Let's get on the same page!
What is knowledge base software?
A knowledge base software typically allows users to create, edit, and manage articles or documents containing information and instructions on various topics. These articles can be categorized and tagged to make them easy to find and navigate.
Knowledge base software may also include search functions, commenting features, and analytics to track usage and effectiveness.
It is a holy grail for enhanced user productivity, effective training, and unified communication.
Internal vs External Knowledge Bases: Key Differences
The difference between internal and external knowledge bases lies in who can access the information.
Internal knowledge bases centralize institutional knowledge and employee intelligence.
While external knowledge bases give customers access to content types like FAQs, user manuals, and troubleshooting guides.
As organizations set up their internal knowledge bases, they must prioritize security to protect sensitive information, focus on contextualization and personalization, and consider content types like FAQs, troubleshooting guides, and video demonstrations.
The good news is that our blog post explores the top 11 knowledge-base software platforms with features like user experience, pricing, search functionality, customization, integration, analytics, workflow automation, and collaboration, so there's something for everyone looking to achieve their knowledge management goals in 2023.
Top 11 Knowledge Base Software of 2023
Gyde
Gyde is a powerful digital adoption tool and a trustworthy knowledge base solution. What sets it apart from traditional KB software is its interactive features, like step-by-step audio-visual walkthroughs and in-app help articles, which guide your employees or customers when confused. Plus, it's multilingual and in-app, your users won't need to leave the application to find the help they need.
Features
Help Articles: Create, edit and manage a knowledge base of helpful articles where you can add hyperlinks, bullet points, and social media RSS feeds for users to get all solutions in one place.
Analytics: Gain insights into users views on your provided help and edit or tweak the content for better usage results.
Feedback: Users can give feedback by using smiley emojis in walkthroughs, help articles, and FAQs.

Integrations: Easily integrated with web-based, cloud-based, and mobile (Android & iOS) applications.
Gyde Widget: Customize the support experience for users by seamlessly integrating with any application to access help articles, FAQs, and other support resources.
Use Cases
Employee training and onboarding: Create a help center inside any application to provide employees with the information and resources they need to get up to speed quickly and efficiently.
Internal knowledge sharing: Use a knowledge base to store and share internal information, such as policies, procedures, and best practices, among team members.
Support ticket deflection: Create a knowledge base of articles and FAQs that address common issues and questions to reduce the number of support requests.
Product onboarding: Guide users through the most critical product features and functionalities to help users get started with the product.
Pricing & Reviews
Starting at just $99 per month, the Air plan is perfect for those starting with a knowledge base. The Startup plan is also a great option for those who need more features, with pricing starting at $199 per month.
The Enterprise plan is available with a personalized quote. Gyde's pricing model is reasonable and adaptable, ensuring you get the best deal for your needs.
"Gyde has helped us to enhance the digital adoption in one of the flagship employee programs at Bajaj Allianz Life Insurance Co. Ltd. Gyde walkthroughs have restructured and revamped the way our employees experience a new application with training videos and FAQ's being embedded into the screen. With this our employees will be able to adopt to the new applications much faster and become proficient in them independently."
Zendesk
If you're looking for a customer service platform to manage your customer interactions, Zendesk is a great option. Listed below are its features, potential uses, and downsides.
Features
Knowledge base tool, called Zendesk Guide, with a WYSIWYG style editor and a drag-and-drop interface
Display articles in-app or on your website using the web widget
Analyze your content's performance to identify knowledge gaps
Though, it does have some limitations, including:
A limited number of free help center themes available for customization
Versioning is only available on higher-tiered plans, making publishing article updates in conjunction with product or service releases difficult.
A limited number of free help center themes and a high cost of additional themes in the Zendesk Marketplace
Use Cases
Internal knowledge base
IT knowledge base
Support agent-only knowledge base
Pricing and Reviews
Pricing plans that include Zendesk Guide start at $49 per agent per month
The platform's lowest two pricing tiers do not include knowledge base functionality
"In my requirement, I used 3 features of Zendesk Guide, mainly knowledge base /tickets, agents, and reporting. Some improvement is needed to reviewing articles, as we can't do the reviews in the same place where we write and publish the article."
Wix Answers
Wix Answers is a cloud-based help desk platform that provides intuitive knowledge base software for small to medium-sized businesses. Before Wix Answers, there was Wix, a website builder for small businesses without technical resources.
Features
Custom branding lets you personalize your self-service center and internal knowledge base tool.
Categorization organizes content in your knowledge base to make it easier for customers to find what they need.
Knowledge content management enables you to create and update articles, videos, and more.
Built-in search provides customers with an easy way to search their knowledge base for answers.
While Wix Answers offers a range of useful features, there are also some limitations to consider:
Limited Enterprise Features: Wix Answers may not be suitable for larger organizations that require more advanced features.
Software Bugs and Instability: Some users have reported laggy operation and software bugs, which can impact customer support.
User-Unfriendly Features: Some features may not be as intuitive as others, making it challenging for new users to get started.
Use Cases
Self-Service Center: Create a knowledge base to provide customers with answers to frequently asked questions.
Internal Knowledge Base Tool: Use the internal knowledge base to provide support reps with information to answer customer inquiries.
Content Hubs: Organize content around specific topics, such as onboarding, troubleshooting, or product updates.
Pricing and Reviews
Wix Answers pricing starts from $24 per agent per month and goes up to $80 per agent per month, depending on your chosen plan.
The plans are categorized into Self-Service, Multi-Channel, Unlimited, and Call Center, offering a variety of features to meet different customer support requirements.
Wix Answers offers a free trial of all plans.
"With Wix Answers, we had the option to rapidly and certainly get set up with practically no quarrel. There are just two cons we've seen up to this point: 1. The stage is very new, so there are still elements that are being developed and not exactly prepared or missing altogether (when contrasting with different stages). 2. Learning and setting up the stage wasn't precarious, however, required a decent measure of experimentation."
Bloomfire
Bloomfire is an internal knowledge-sharing and management platform that enables companies to easily create, store, and share content with their employees.
Features
AI-powered search engine that can transcribe videos
Customizable questions and answers that can be turned into searchable content
Social media-like interface that enables content sharing and liking
While Bloomfire offers a range of useful features, there are also some limitations to consider:
Limited layout and formatting tools
Limited scalability for larger companies
Limited enterprise integration capabilities
Cluttered information as knowledge bases are built out

Use Cases
Bloomfire is ideal for companies that rely heavily on video content and want to centralize their knowledge base.
It can store training materials, standard operating procedures, and company policies.
Its social media-like interface also encourages employee collaboration and fosters a knowledge-sharing culture.
Pricing and Reviews
Bloomfire's plans start at 50 users, and pricing is available upon request.
"Overall, the experience with Bloomfire has been a positive one. The centralized knowledge base has proven useful, and the benefits exceed any drawbacks we have seen by a wide margin. One of our biggest complaints is about indexing and navigation that can sometimes seem a bit clunky."
Document360
Document360 is a user-friendly, specialized knowledge-base software with powerful features that require minimal customization. It offers plans for small teams up to enterprises, and its software provides a robust file comparison tool for viewing older drafts against current versions.
Features
User-friendly interface
Compose using a markdown or WYSIWYG editor
Search capabilities
Create both internal and external knowledge bases
Ability to create a Document360 domain for your knowledge base site
While Document360 offers a range of useful features, there are also some limitations to consider:
Limited features compared to WordPress and ZenDesk, as it cannot be used as a complete customer support system
Lack of third-party integrations, which are limited to just a few apps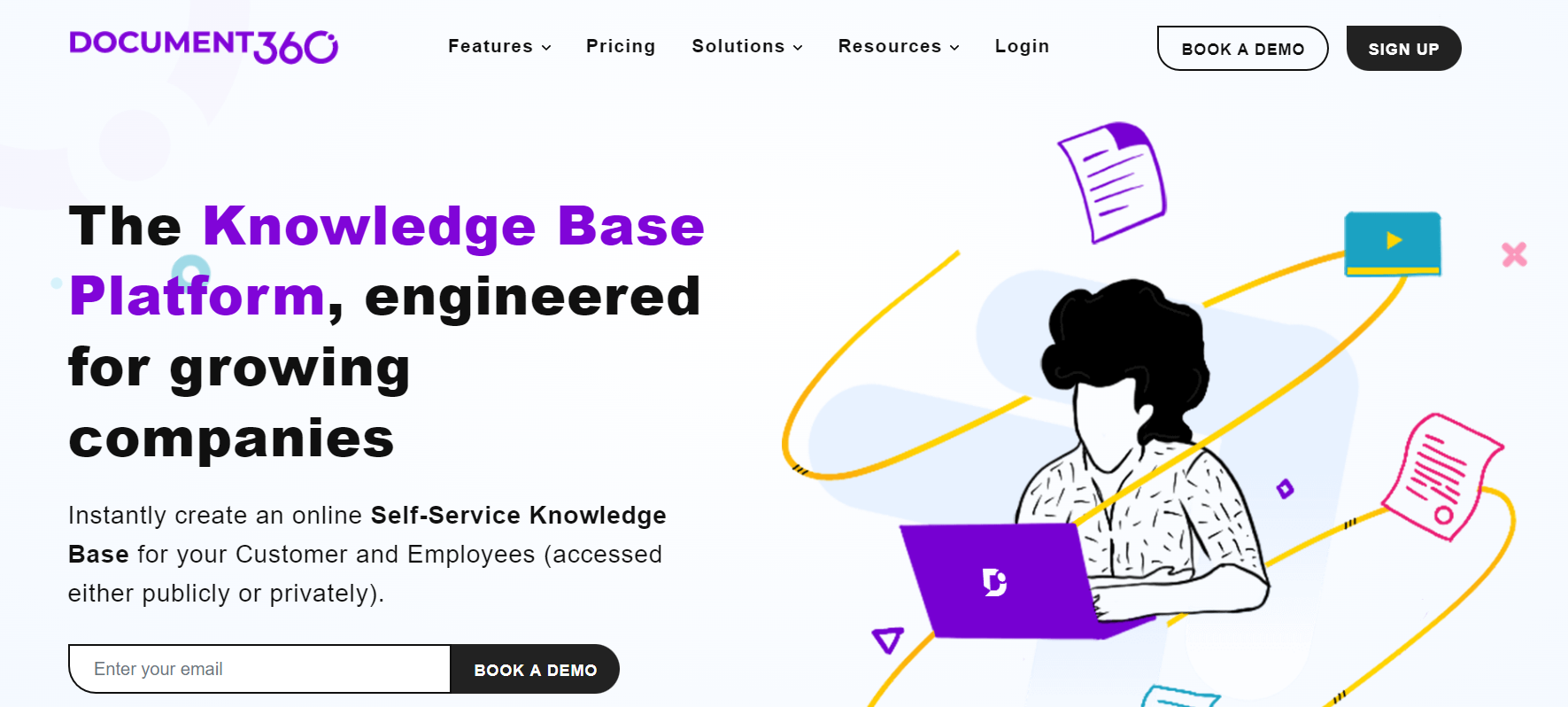 Use Cases
The cloud-based app makes creating private and public knowledge bases simple and easy.
Its intelligent search system supports auto-suggestions when typing in the search box.
The software is designed to create well-organized knowledge base platforms.
Pricing and Reviews
Free plan available for small businesses looking to create a public-facing knowledge base
Five team accounts are included in each paid plan (starting at $99/project per month).
"I like how intuitive it is to use and how easy it was to get started. The features are exactly what we are looking for. The more we explored the capabilities of Document360, the more we found our customers enjoyed our documentation site. I don't like how the table formatting works. You have to edit each box separately."
Guru
Guru is a low-cost knowledge base platform designed to help companies streamline their internal and external knowledge management processes.
Features
AI-powered search helps users find the right people within their company who are most likely to have the answer to a specific question.
Knowledge management allows teams to store and access company information in one place.
Integration with Slack allows users to create and share articles, find existing information, and receive real-time notifications when content needs to be updated or verified.
Guru's browser extension lets users capture and save information from various sources without switching between applications or windows.
While Guru offers a range of useful features, there are also some limitations to consider:
Guru's templates and card designs are limited, which can be frustrating for users who want to customize the platform's appearance.
Some users may need clarification on Guru's interface, especially if unfamiliar with knowledge management solutions.
Use Cases
Sales enablement: Guru's sales enablement features, such as battle cards and product FAQs, help sales teams close more deals by providing them with the information they need to engage with prospects and customers.
Customer support: Guru's knowledge management and Slack integration features make it easy for customer support teams to access up-to-date information and collaborate on resolving customer issues.
Product development: Guru's centralized knowledge management solution helps product teams keep track of product roadmaps, feature requests, and other product-related information.
Pricing and Reviews
While Guru has a free trial and plan, paid plans start at $5/user per month, which can add up quickly for larger teams.
"The Guru online community and Help Center greatly support the instance overall. Key features such as Verification intervals and Duplicate detection allow us to ensure that our team uses the most up-to-date and accurate information from a single source of truth. Guru does not allow Authors to collaborate on unpublished cards"
Helpcrunch
HelpCrunch is a customer communication platform that offers a knowledge base solution for businesses to provide customer support.
Features
Customer communication platform with a knowledge base as part of its suite of tools
A search function that suggests relevant articles based on keywords
Ability to include a live chat widget on knowledge base pages for additional customer support
While HelpCrunch offers a range of useful features, there are also some limitations to consider:
Lack of third-party integrations
No ready-to-use knowledge base templates
No workflow approval system
No multiple language support

Use Cases
Ideal for small businesses or startups with a limited budget
Suitable for businesses looking for a basic knowledge base solution
Can be used by businesses that want to improve their customer support through a live chat widget
Pricing and Reviews
No free plan, with a starting price of $12/user/month for basic features
"We are currently using the HelpCrunch chat service on our website and I can confidently say that it is an excellent tool for customer support. Some things are not straight-forward. Waiting for standalone windows app to be available."
Intellum Platform
Intellum Platform is a learning management system (LMS) and a customer education platform that offers a range of features to create, manage and deliver online courses and training programs. Businesses can customize their learning experiences with personalized branding, content, and assessments.
Features
Learning management system: Intellum provides all the tools you need to create, present, manage, and track personalized learning experiences for your users.
Knowledge management platform: In addition to its LMS, Intellum also offers a knowledge management platform to help you manage large volumes of content.
Engagement tactics: Intellum's platform allows you to engage your users through notifications, recommendations, certifications, mobile, chat, and gamification.
While the Intellum Platform offers a range of useful features, there are also some limitations to consider:
The inability to completely remove inactive users from the system, even if they are labeled as "Test" or similar, may be a limitation for some users.
While it may be understandable to keep records, some users may prefer the ability to remove test users completely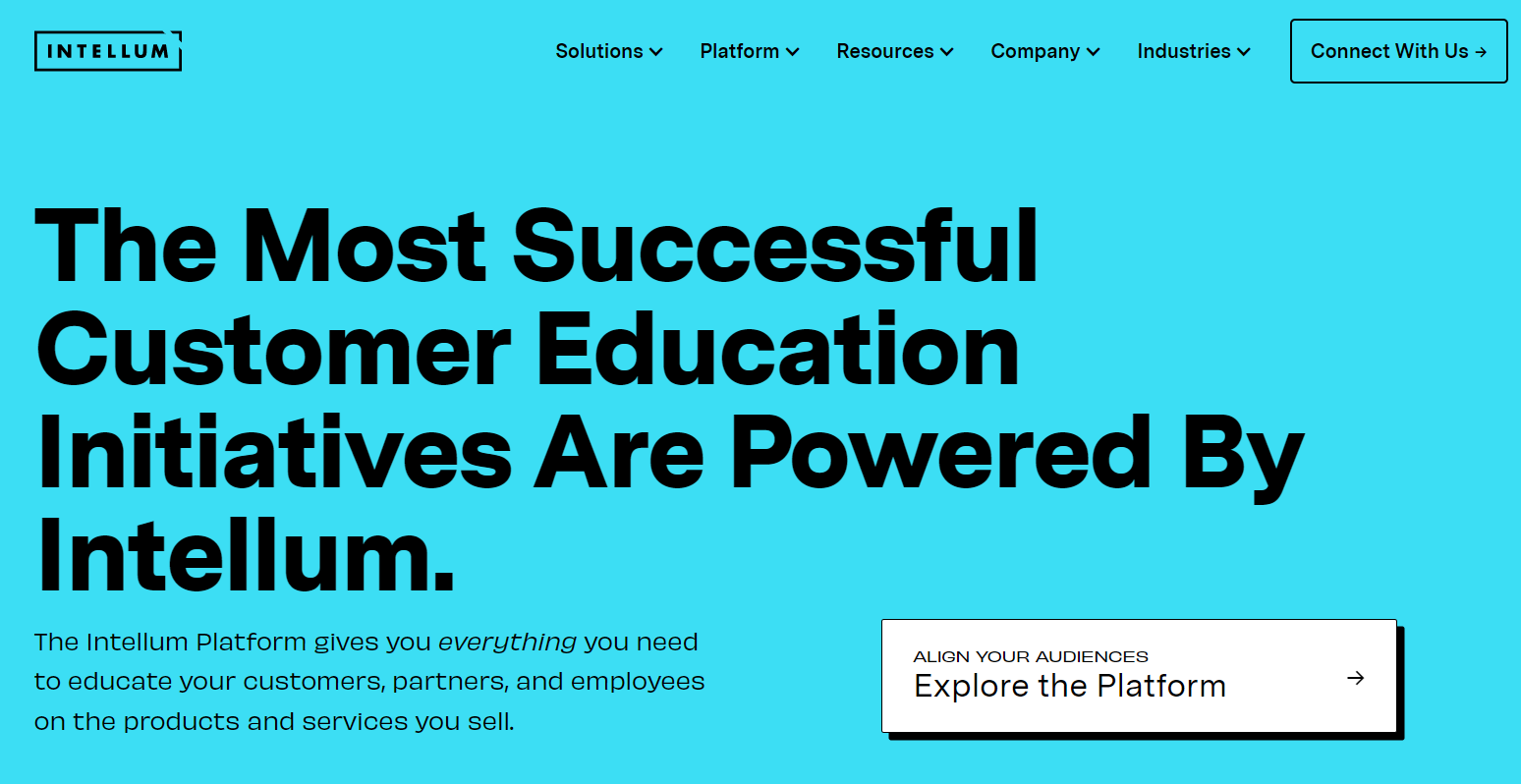 Use Cases
Channel training: Intellum Platform can be used to train partners and distributors on your products or services to help them sell more effectively.

Compliance training: With Intellum, you can ensure your employees are up-to-date on the latest compliance regulations and policies.
Pricing and Reviews
Pricing: Intellum Platform is a subscription-based model, and the cost is based on the number of active users.
Free trial: No free trial is available to test the platform before purchasing.
Enterprise focus: Intellum is best suited for large enterprises with thousands of customers or employees.
"Intellum uses the best of modern UX design principles to create a world-class enterprise learning experience. Functionality matches cloud expectations for ease of use and meaningful feature sets. Integrations have taken longer to implement than expected."
Notion
Notion is a popular tool for internal knowledge bases that combines wiki features and a project management tool.
Features
Flexible components, including kanban boards, checklists, and text documents
Task assignment and due date set
Collaborative workspace
Customizable components that connect to create a knowledge management system
While Notion offers a range of useful features, there are also some limitations to consider:
Slow syncing
It can be challenging to figure out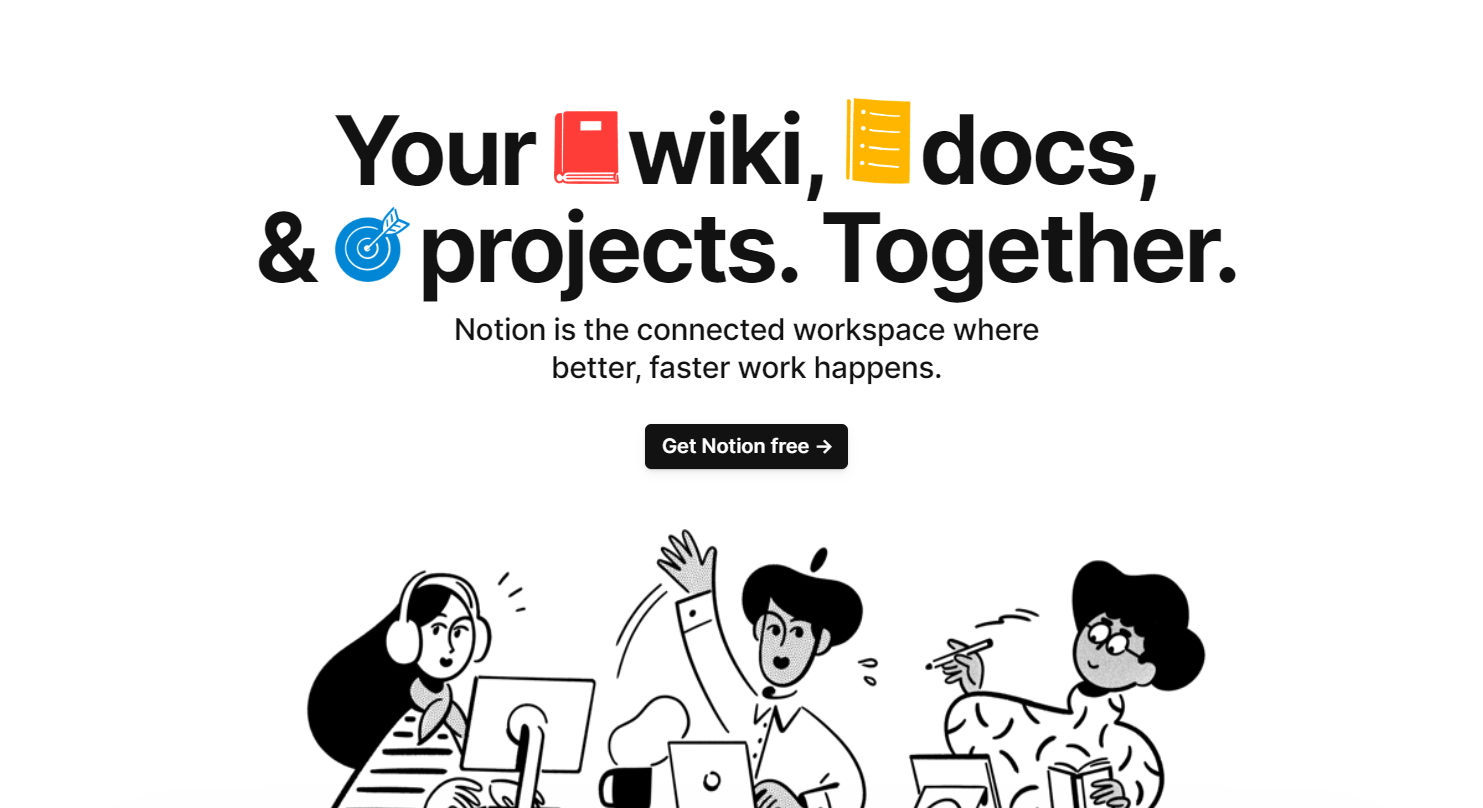 Use Cases
Internal-facing wikis and knowledge systems
Project management tool for teams
Pricing and Reviews
Free plan is only for personal use
Paid plans start at $8/user per month

"I can just put EVERYTHING in one place - it is easy to manage and navigate. It takes a bit of time to get used to all the possibilities, and the names aren't always the clearest, but when you look at templates and what other people are doing, it helps to give you an idea of what is possible."
ProProfs Knowledge Base
ProProfs is a suite of tools that offers various features and use cases for teams looking to create internal resource centers or customer-service help options.
Features
Knowledge base creation in minutes using templates or from scratch
Designing training manuals and product guides
While ProProfs Knowledge Base offers a range of useful features, there are also some limitations to consider:
Limited customization options
Security concerns raised by some users
Poor user interface reported by some users

Use Cases
Internal Resource Center: ProProfs Knowledge Base can be used by teams to create an internal resource center to store and share information such as employee handbooks, policy documents, and training materials.

Customer Service Help Center: Reduce the workload of support teams while also providing customers with fast and convenient answers to their questions.

Product Training and Documentation: Teams can create engaging and informative training materials that help users get up to speed quickly.

Pricing and Reviews
The annual plan for this service costs $49 per author per month, which adds up to $588 billed annually.

"ProProfs Knowledge Base came as a breath of fresh air for us when we struggled with our support process. Managing the landing pages is difficult as it is almost impossible to find access."
Slab
Slab is a powerful knowledge hub designed to help businesses organize and manage company documentation, collaborate on projects, and streamline workflows.
Features
Activity Dashboard: Track user activity and keep an eye on engagement levels.
Third-Party Integrations: Connect with popular productivity tools like Slack, G Suite, GitHub, and Asana to enhance workflow.
Meeting Management: Schedule, manage, and track meetings with ease.
Cataloging/Categorization: Organize your content into hierarchical topics with tags to help users find relevant information.
While Slab offers a range of useful features, there are also some limitations to consider:
Slab may not be suitable for large organizations with complex needs.
Some users have reported occasional downtime or glitches.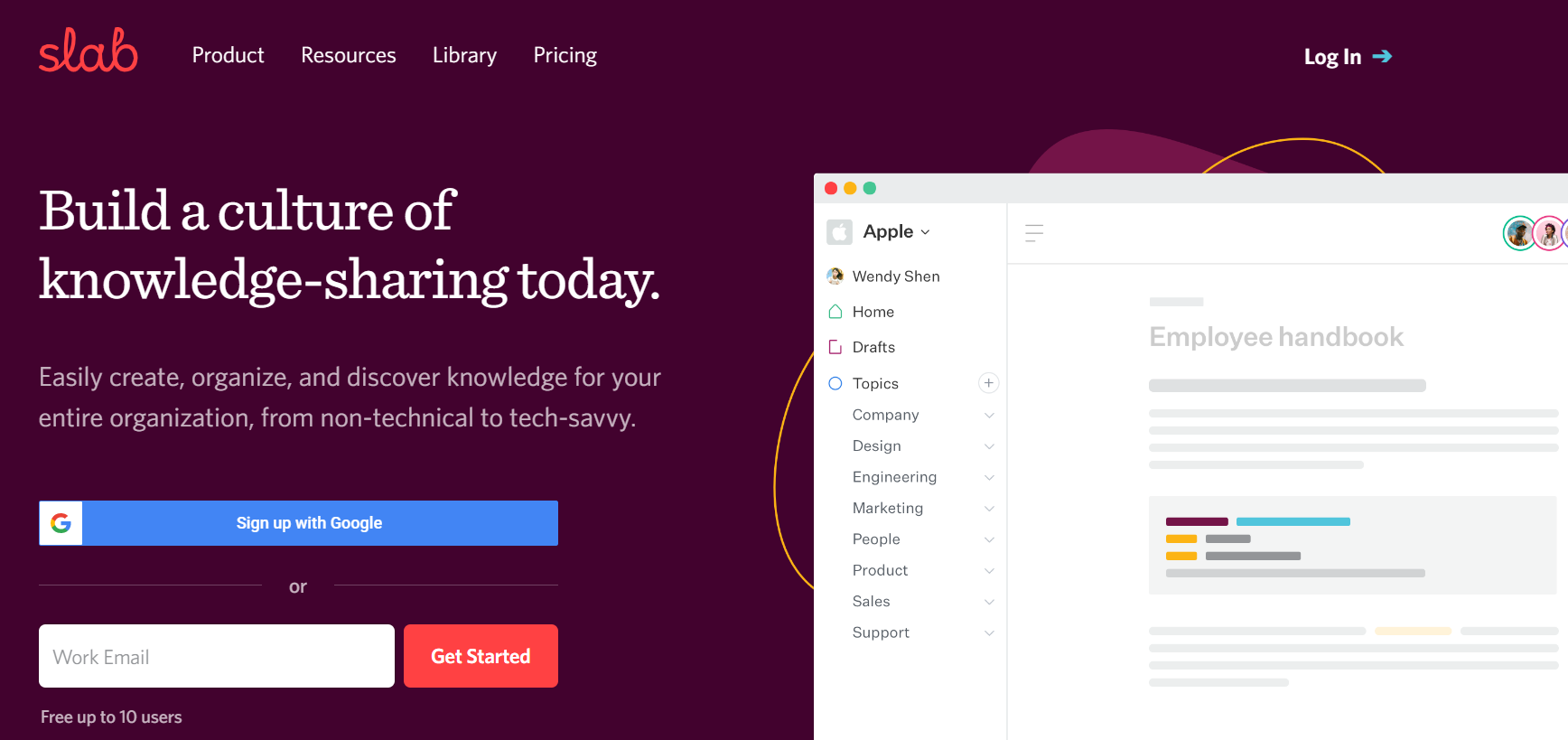 Use Cases
Document Management: Store, organize, and share your company's knowledge base in one place.
Collaboration: Work together with team members in real-time on projects and documents.
Information Sharing: Provide employees with easy access to important company information.
Training and Development: Create and share training materials with your team.
Pricing and Reviews<