What is change management?

Change Management is the need of the hour for businesses across the globe. Most of the Organizations are in the process of investing in new technologies and digital transformation for their organizations to ensure business continuity.

Successful Change Management is a result of overcoming essential change management challenges. Change initiatives must have a purpose and provide value to the customers as well as employees.

To make sure that the organization has taken all the right measures to make a change management initiative successful, investing in a reliable Digital Adoption Platform is highly recommended.

To help in making the decision of investing in a DAP like Gyde, Following are 3 effective ways it can achieve seamless Change Management -
Contextual employee training with on-screen guidance
Classroom training vs customizable In-app help
Tracking efforts with advanced Analytics

Contextual employee training with on-screen guidance -
If any organization is facing difficulties in training & onboarding employees on any new application and also looking for an effective Change Management tool, then Gyde can be the best help. On-screen guidance by Gyde clearly shows the end-user "How to do any specific task?"

Gyde's on-screen guidance can help with:
Simplifying the complicated workflows, with the help of audio-visual walkthroughs and contextual help articles which shows end-users how to complete the tasks without any errors or taking unnecessary steps.
Bringing down the dependency on the external assistance, as employees can do their tasks simply by following the in-app walkthroughs
Boosting the employees productivity from day one. As it makes employees self proficient with software from the beginning
Classroom training vs customizable In-app help -
Classroom trainings are not always effective and don't always scale very well. But with In-app help, it is possible to overcome and replace the lengthy training sessions, with small interactive help snippets.
All the help is customizable based on the role, application page, user location etc. This adds the specificity in the way user want to learn the application
Tracking efforts with advanced Analytics-
Gyde's Analytics help with:
Identifying where employees are spending too much time while performing a task, where they get stuck and need more assistance
Identifying which new walkthroughs and help articles are needed to be created to address those challenges
Significant analytics provide insights on the employee engagement and overall usage of the application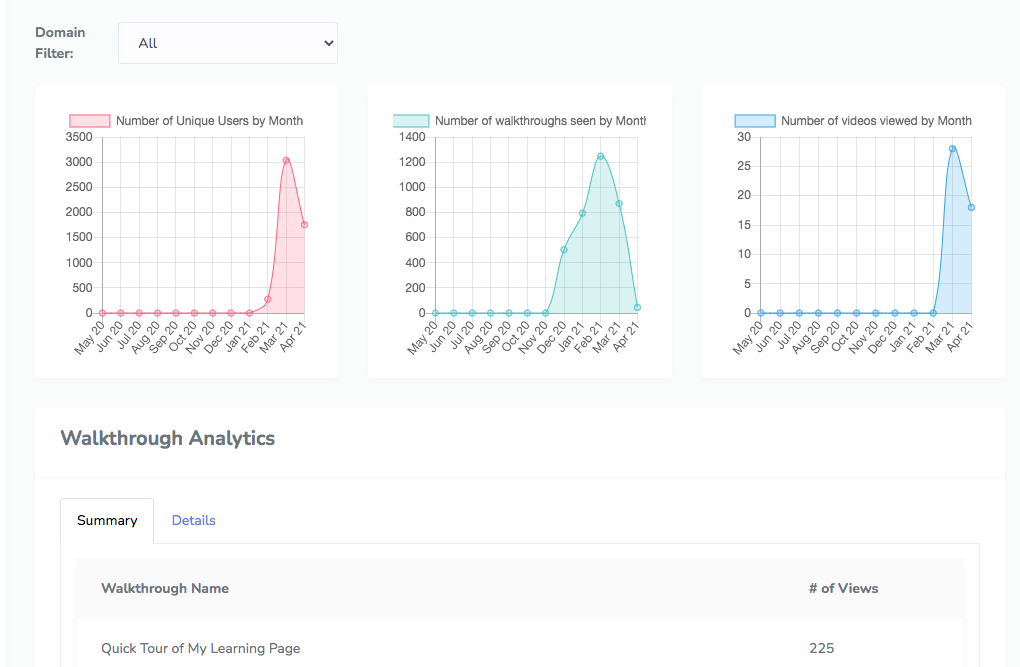 Gyde ensures smoother change management and application rollouts. With Gyde, the digital transformation team can focus on delivery and its ROI where Gyde takes care of the user onboarding, adoption and support.