Do you want to maximize the return on your software investment at the lowest possible cost? Is the upcoming recession worrisome as it has compelled you to cap your budget? Would you like to increase employee productivity and software usage at the same time?
If yes, that's when you need Digital Adoption Platforms(DAPs) to do its magic.
In every industry, 70% of digital transformations fall short of their objectives. This has led to an explosion of digital solutions.  Companies invest in DAPs to increase user adoption and to make software learning seamless. Plus, user skills enhance while working and it's a good attempt at making the investment worth it!
Walkme has been one of the pioneers of DAP since 2011. It is a cloud-based DAP that strengthens user experience.  A professional can use it to engage prospects, customers, employees, and partners at any point during the online experience. Although Walkme might not entirely meet your needs, taking into account the approaching economic recession, it can be a costly endeavor.
In case you have started experiencing adoption-related troubles, and you have searched every corner for something that might actually be worth the investment; keep reading to learn why adoption is getting so hectic and why there are better Walkme Alternatives!
So without further ado, let's jump right into it!
Why look for Walkme Alternatives?
Walkme's likely to recommend on Capterra is 64.7% and so here are some reasons you might want to look for alternatives -
Walkme has a jack-of-all-trades approach to its functions. In other words, it can do many things but lacks precision and mastery in any of them.
It can give you a complete user journey analysis and even help you in digital adoption. But, if you want to solve a specific problem, Walkme would be a generic solution you may not want to use.  
Another reason could be the annual contracts. Enterprises do accept yearly payment plans. But they aren't favored by flourishing enterprises these days!
The reason being SaaS is flourishing at full power. Also, it is a known red flag to continue a problem-loaded service because you paid for it!
Next in line, unhappy customers have often reviewed Walkme as slow in support. A bug or disturbance in service needs available attention from the software provider. Walkme also has a hard time providing high-quality customer service.
Walkme's basic plan starts at $9000 to over $50,000 per year. Does that ring an affordability buzzer?
Small and medium-sized businesses might wonder if it is worth all that money and it is only fair to think so. Walkme alternatives below are affordable and come with the exact or more features.
How are the Walkme alternatives listed below better?
They have affordable pricing models.
They provide contextual support just when the user needs it
They don't make you wait with long TAT(Turn around time)
They prioritize personalization for better adoption
They anticipate customizability to suit your needs
Moving ahead - Here is your first Walkme alternative - Gyde
Walkme Alternative 1: Gyde
Here's a Mini Update:
No-code platform
Deployment - Cloud, Web-Based, Mobile- Android, iPhone
Capterra rating: 5 stars
Likely to recommend - 100%
Major Clients: Verizon, Fidelity Investments, South County Health, Bajaj Allianz
The Good
Gyde's motto, "We are on a mission to democratize software guidance!" shines through all their features. Mid-market growing enterprise leaders can easily train and onboard new or existing employees with this simple, easy-to-use solution.
Leaders from all across fields - CIOs, Sales, Finance, L&D, Customer Success and application owners choose Gyde and believe it will ease employee work. Your users need helpful resources to enable maximum productivity. Gyde gives a localized touch with multi-lingual walkthroughs for businesses in diverse locations. That means you can personalize your user guides/walkthroughs for your user base.
Gyde sits in any of your cloud-based applications or in-house products and navigates the user through complex doubts. So may it be an android or ios app or even a Salesforce application, Gyde got you covered!
Comparison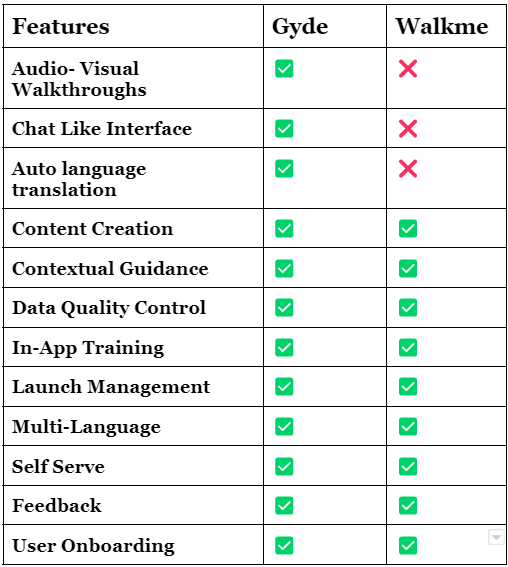 What else is best?

Gyde is a super Walkme alternative that generally ranks better than it on Capterra. Mainly, due to its features. You can customize Gyde to suit your budget and preferences at the time of implementation. With Walkme, they have standard packages and it hardly gets flexible with your individual business needs.
Gyde clients appreciate the one-on-one guidance and refresher training provided to the operations team, as it allows for a holistic user experience. Apart from that, the  pro-active walkthroughs and help articles come to the end user's rescue in times of confusion!
Gyde can work for you in a few steps. Unlike Walkme, you can directly get in touch with the customer success team and roll out the implementation!
Pricing
Pricing stands as a great factor to choose Gyde over Walkme. It's an affordable solution with a promise of the best customer support. With its quarterly and monthly quotes, you can scale your company's digital adoption exceedingly.
The pricing model starts at $200/month. The packages are customizable according to your SMBs need. There is a readily available free trial for 15 days.
Reviews
A Product Consultant from the E-learning industry reviews it as -
Gyde offers highly flexible, configurable as well as easy-to-access infrastructure, you can create workflows and help videos. You can seamlessly activate and deactivate these workflows on any of the software instances. The walk-throughs can be auto-triggered or manually activated. Would you also like to know what's the cherry on top? Its ability to display only relevant steps from walk-through dynamically, as per your platform configuration settings. Customer Support is their strong suit. Gyde Team is one of the best teams, I got the opportunity to work with.
Walkme Alternative 2: Whatfix
Here's a mini update:
No-code platform
Deployment - Cloud, Web-Based, Desktop - Mac, Windows, Linux
Capterra rating - 4.6
Likely to recommend - 89.1%
Major clients - Decathlon, AbleTo, Riversand
The Good
Whatfix empowers its users digitally. For enterprises, their service is personalized with contextual support and in-app guidance. They help their users to navigate through any complex setting with user preferences.
Fast implementation and ease of use are Whatfix's promises to its users. And it stands as one of the best Walkme alternatives to be there in global markets.
Comparison

What else features?
Let's take a quick look -
Content Creation
Contextual Guidance
Data Quality Control
In-App Training
Self-Service Tools
Surveys & Feedback
User Onboarding
Pricing
A free trial is offered with basic features, and subscription plans are available upon request. Although the cost can be a little high, businesses with more than 20k employees might find it worth the investment given the features it offers.
Reviews
An executive at Ventas Estados Unidos reviewed Whatfix as follows-
This application is really easy to use for you and your clients. Since we created a platform with so much content in TravelContact, Whatfix helps our customers know every detail we offer. Now our clients, such as travel advisors, agencies, and DMC have two different tools to make life easier for them. On the other hand, Whatfix´s support team has been impressive, they have solved every doubt or inconvenience that we have presented throughout the process.
Walkme Alternative 3: Apty
Here's a quick update:
Deployment - Cloud, Web-Based, Desktop - Mac, Windows, Linux
Capterra Rating - 5.0
Likely to recommend - 100%
Major Clients - AgileCRM, Hitachi, IDBank
The Good
Apty is known to combine the strength of on-screen guidance with automation which saves time and completes processes. As Apty believes that software is not the problem - it is how it's used by people.
By using the advanced tracking tools, you will be able to see how employees interact with the program immediately and get detailed information on how they interact with it. As a result, it eradicates the gap between logging into the software and completing the task.
Comparison

What else features?
Here are some other features to consider:
Content Management
Course Publishing
Customizable Templates
Blended Learning
Course Management
Reporting & Statistics
Surveys & Feedback
Pricing
Apty's pricing model is subscription-based. You can request a demo and expect a quote based on your needed intelligent analytics, the complexity of flow creation, the variety of domains, custom validations, and more.
Reviews
An UI developer used Apty for 6-12 months and reviewed it satisfactorily-
Post the roll-out of Apty our employees spend more time on the actual work than on training. Well, with Apty, employees learn the application while doing their job as the workflows guide them from one step to another. It saved us a lot of time.
Walkme Alternative 4: Pendo
Here is a mini update:
Deployment - Cloud, Web-Based, Mobile - Android, iPhone, iPad
Capterra rating - 4.5
Likely to recommend - 85.9%
Major clients - Zendesk, infor
The Good
Pendo has one of the best in-app messaging services that translate into more IT and HR teams to onboard, train and incentivize an employee faster. We live in a world where mobiles are the epitome of speed and connectivity. There's no wonder enterprises need tech solutions like Pendo to match that epitome.
Product managers have the upper hand with Pendo as it has all the solutions focusing on product engagement with a robust feedback system. If your enterprise is a product-based service/solution, Pendo is a good deal!
Comparison

What else features?
Pendo wins in the SaaS category as it gives more guidance over user segmentation and user analytics. Other notable features Pendo has are-
Surveys & Feedback
User Onboarding
Contextual Guidance
Audience Targeting
In-App Training
Self Service Tools
Feedback Management
Pricing
According to Pendo's website, they have four pricing plans - Starter, Growth, Portfolio, and Premium. For the Starter pack, the price starts at $7000 per year, while the rest of the plans will be available at the client's request.
A free version is available for you to start with, so you can get a sense of how product analytics work and use the in-app guides.
Reviews
A product manager reviews Pendo as follows-
I couldn't live without Pendo Feedback now that I've been using it. It makes collecting and organizing product feedback and feature requests so easy and I love how visible it is to the whole organization. I'm the only Product Manager at our company so having tools to help automate and organize product requests for all of our products is a lifesaver. I also really appreciate how easy it was to set up usage analytics and how little engineering effort it took. Since it has been set up, I haven't needed engineering for anything related to Pendo and can do everything on my own.
Walkme Alternative 5: Spekit
Here's a quick update:
Deployment - Cloud, Web-Based, Desktop - Mac & Chromebook, Mobile - Android, iPhone, iPad
Capterra rating - 4.9
Likelihood to recommend - 92.9%
Major Clients- DocSend, Alto, Copado
The Good
Spekit is our last Walkme alternative on the list, designed to empower your internal users a.k.a your employees. They can have easy access to answers through in-app support and enablement resources, anywhere and everywhere they work.
The solution focuses on companies and teams that require a just-in-time approach or what they call 'microlearning' for their employees. After the pandemic, most teams are working remotely. To tackle this gap of communication and constant support, it is a modern yet effortless solution that comes in handy for employee training.
Comparison

What else features?
Seismic Integration
Knowledge Checks
Premium Onboarding and Professional Services
Content Management
Knowledge Base Management
Learner Portal
Task Management
Pricing
Spekit's pricing model charges per user. It starts at $20 a month/per user. They also give discounts to nonprofits. With Spekit, you can use your preferred system regardless of your current concerns.
Spekit's pricing is an excellent solution for small teams. But even so, it is indeed an expensive option for corporate/enterprise teams that plan to massively grow.
Reviews
A CRM Manager reviewed Spekit as follows-

I have to say the best part of this software is the Chrome extension compatibility! Yes having a one-stop shop website to house your info and how-to is great, but delivering that to your end users right where they work, is invaluable!
Over to You
After scanning through all the best-in-class Walkme alternatives, we have a conclusion - it depends on you and your needs and what suits you best.
Walkme is probably the oldest solution out there. However, DAPs such as Gyde bring new features and USPs to the table that make them stand out in the market.
Most businesses are tight on budget and there are second thoughts if it's really worth it. But with Gyde, you no longer have to think that way. Not to forget, Gyde trumps Walkme when it comes to low-cost plans and user-friendliness!
Get its 15-day trial and stay ahead of the curve!
Good luck with the change!
FAQs
1. Who are Walkme's competitors?
You may want to consider Walkme's competitors based on your use case:
1) Gyde
2) Whatfix
3) Pendo
4) Spekit
5) Apty
2. Which is better - Gyde or Walkme?
For small to medium-sized companies, Gyde is the best option. Gyde is your go-to solution if you are tight on budget and looking for great service at an affordable price.
3. How to find the right DAP solution for you?
You have to figure out what you need and for that, you need to know the following-
Is the solution being used internally or for user growth?
What budget allocation do you have?
Do you need a jack-of-all-trades or a best-in-class?
4. What is cheaper than Walkme?
Gyde is much cheaper than Walkme and offers a similar feature set. You can ease your user adoption with walkthroughs and in-app guidance. Gyde pricing begins at $200 per month, while the cheapest plan of Walkme starts from $9000.

5. How does Gyde help companies solve problems?
Seamless customer support with attention to precise functionality
Auto-triggering or manually set walkthroughs to make learning easy
Make announcements to promote new features in any part of your app.
Segment your customer base and customize your in-app communications.